17 Christmas Gifts for the Health & Wellness Hero
Stocking fillers, statement gifts, or even a last-minute advent calendar! We have some lust-worthy gifts prepared for the true health and wellness hero.
---

A special, limited edition advent calendar curated with self-care and wellbeing in mind. Loóna, the award-winning sleeping app, has joined forces with mental health charity, Beder, putting a card for 3 months worth of restful sleep into the calendar. Behind each of the 24 doors you'll find aromatherapy products, herbal teas and health foods from brands including ThisWorks, Spacemasks, Bird & Blend, The Breath Space, Unrooted, and Joe & Sephs, and you'll even gain exclusive access to an online breathwork platform, a live yoga class and calming bedtime app. I haven't opened each of the doors yet (of course), but I've been told there are a pair of Christmas socks snuck in there… All proceeds go towards supporting Beder in its work normalising the conversation and reducing the stigma around mental health and suicide.

This award-winning silk pillowcase has the magical ability to improve skin and protect your hair since it reduces the friction and breakage you'll find with regular cotton bedsheets – perfect for countering the harsh Winter weather and helping those with fine, thinning hair (we're looking at you, Uncle Jeff). 

Great for those that like to capture and log the things which matter most to them. Choose between eight themes such as travel, recipes, and wine, using the structured sections to prompt you as you document what you love. We particularly loved the Wellness Journal; the perfect tool for the goal-setter or mindfulness master. Use the journal to map out the best route to achieving your goals and keep a permanent record of your progress.

Stocked in Selfridges, The Sports Edit, My Gym Wardrobe + Fableyoga.com, the neat, commuter-friendly mat by Fable is crafted with eco-sensitive materials (PVC free and no toxic inks/glues) and a laser-engraved, fade-free dotted design to help you align in standing postures. They'll even plant a tree for every mat sold with their charity partners, Tree-Nation. 

Whoop
(from £18p/m)
More than just a gimmicky fitness tracker to gift your fitness friend with – Whoop is for those that take their training seriously. Unlock your performance with this compact little strap (available in countless colour combinations), complete with a comprehensive iOS app that delivers your metrics and helps you gauge how impactful the diet, sleep, recovery, and training changes you're making actually are. With an advanced sleep coach, strain coach, and even menstrual cycle coach built into the app, you use these insights to prime your mind and body for peak performance in your training, work, and your general health.

Vaha
(Hardware + membership from £70p/m)
The UK's first interactive home-fitness mirror! Delivering fully personalised, immersive sessions for the body and mind with live and on-demand classes, 1:1 personal training, and 2000 other workouts catering for every fitness goal. Monthly instalments and membership packages start at just £70 with access for 5 users on one device, so every family member can get active and feel their best for 2022.

Say goodbye to muscle fatigue! Think of Hypervolt like a massage therapist on call.
Give your muscles the daily relief they've been asking for with the Hypervolt 2's three-speed percussion massage. Warm-up quickly, stay loose, and accelerate recovery at home and beyond – so you can train and recover like a professional ath
lete. Hit all the right muscles with guided routines by using the Hyperice complimentary app.
ORDO Sonic+ Toothbrush
(£49)
Scientifically proven to remove more plaque than manual brushing alone, Ordo's Sonic+ Toothbrushes are designed and recommended by dentists. With 40,000 sonic pulses per minute and four bespoke brushing modes, Ordo have sold more than a million products globally and we're also big fans. With numerous colours to chose from, handing USB C charging and an affordable price tag have we're loving this as an impressive Christmas gift that won't break the bank.
This is the one for dry or dehydrated skin, a silky serum scented by Rose Geranium with a subtle hint of Eucalyptus. An absolute go-to for all-round glow and goodness. We love the feeling of instant hydration without being in the slightest bit greasy. Vegan, cruelty-free and suitable for all skin types.

 The 'Lift and Illuminate' face mask by Aesthetically Perfect Skin is a nourishing firming effect natural silk mask multipack. Enriched with blurring diamond powder, hydrolysed collagen and Vitamin C. This intensive vitamin-rich formula helps smooth, hydrate and tone the skin for a refreshing brighter complexion.

Driven by science, consider the Saviour Moisture Mask your SOS winter skin rescuer, super-soother, and ultimate 'drink' for a thirsty, lacklustre complexion. This non-sticky, gel textured face mask works to replenish cellular moisture with one ten-minute application, whilst protecting, soothing, and fortifying the skin's barrier function and microbiome by using only natural ingredients. It's worth every penny for the sensitive-skin type that's reluctant to spend more on their skin-health!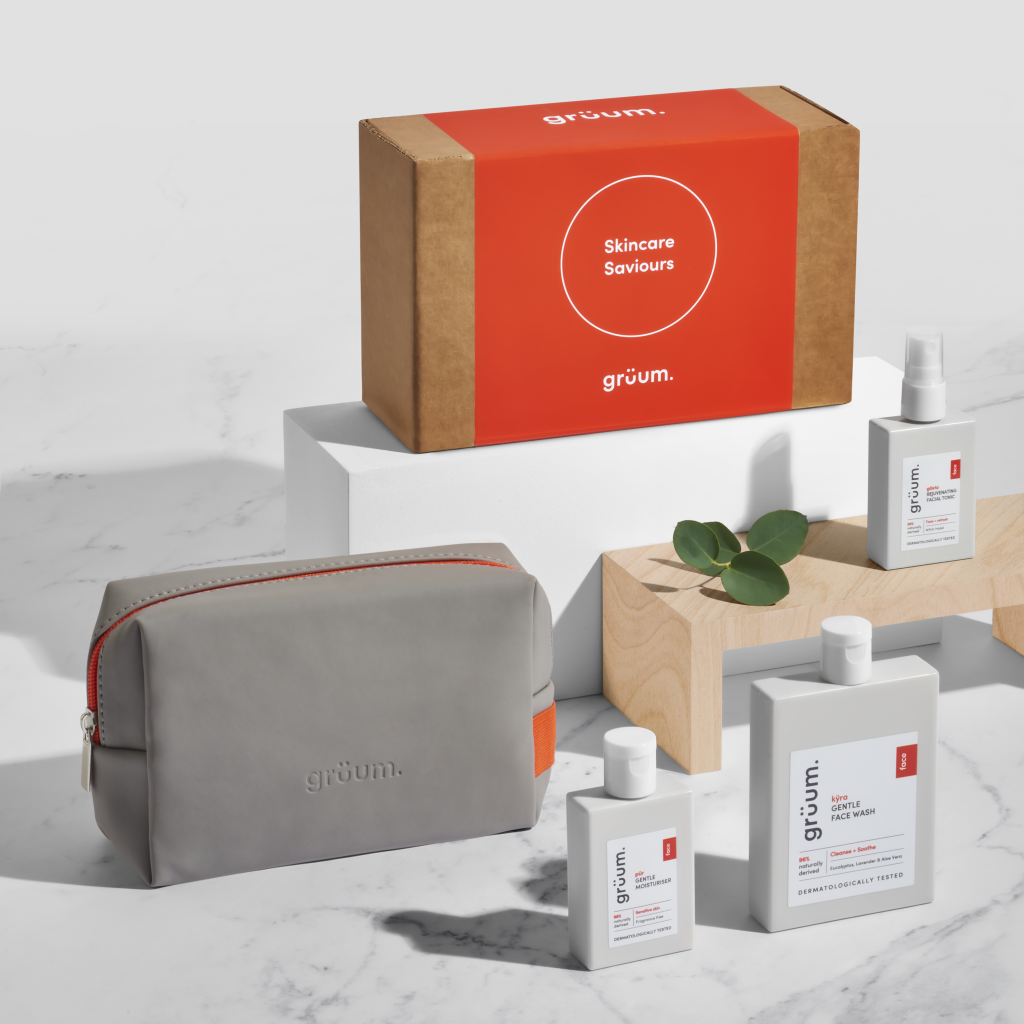 Perfect for all faces no matter their age, gender or skin type; the 3-step skincare set by inclusive UK brand Gruüm battles all common skincare complaints. Packaged together in a funky wash bag made from recycled plastic, giftee's can keep all their skincare essentials in one place. 

An easy and painless full teeth whitening bundle; the hero Teeth Whitening Kit delivers results for at least 2 shades whiter without making your teeth feel sensitive, all while the Charcoal Teeth Whitening Powder & Natural Charcoal Teeth Whitening Kit removes existing stains, and prevents new ones from forming – so you're not just producing short term results. Use the Teeth Whitening Pen for touch-ups on the go and maintain your results.

Featuring the renowned Acne Cleanse, known as the 'natural alternative to Roaccutane' and game-changing Hyperpigmentation Cleanse, the Clear Complexion Kit is specifically designed to prevent and clear blemishes and hyperpigmentation, helping to fade existing dark spots, target dullness and even out skin tone, by using a smart blend of natural ingredients. Just one capsule of each in the morning and night will feed the skin from within and enhance your natural glow, helping to promote a healthy and radiant complexion.

Complete with the WIT Guarantee, these sweat-proof, squat proof and barbell proof leggings will have your giftee covered for every hardcore pursuit. Built to withstand even the toughest endeavours all day every day, the supportive fabric is uniquely crafted for unrestricted movement and incredibly lightweight in feel, meaning they're perfect for running, weightlifting, and even just kicking around in. A drawstring, high-waist band keeps your waist contoured so you never need to worry about your waist popping out. Trust me, these will be your toughest training partner!

Create natural beauty looks with this selection of multi-tasking clear and neutral tinted balms for lips, cheeks and eyes. The versatile pocket-sized balms are perfect for on the go and can be used to add a glow as a cream blusher, eyeshadow, highlighter or bronzer. Great as a first makeup introduction for young ones or an ideal gift for your secret Santa.

Stuck on what to get a loved one? Why not provide a child with the life-changing resources they need to learn with School in a Bag's 2021 Afghan Refugee Appeal instead. In partnership with the Afghanistan & Central Asian Association (ACCA), the priority of the appeal is to support children in their resettlement and integrate them into UK life, English language classes, and enrol them in school. Every SchoolBag is new, individually numbered and trackable on the School in a Bag website – more often than not, donors are able to learn details and see an image of the beneficiary of their SchoolBag so they can feel even more connected. So far, School in a Bag have distributed over 122,000 bags to children across 49 countries. We can help them reach their target of 3000 bags for the Afghan Refugee Appeal!