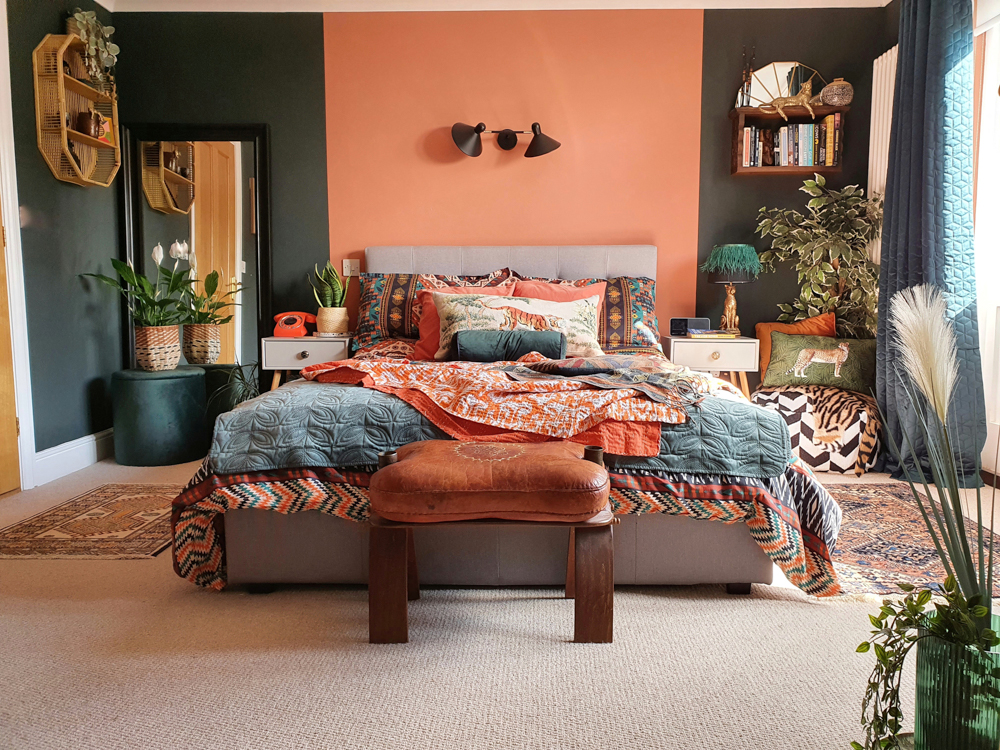 Welcome to our new interior series, "4 Corners Of My Home". Every week we'll be speaking to the people behind some of Instagrams most bouijie interior accounts and asking them to take us through their favourite "4 Corners Of My Home". Kicking off the series is the lovely Rachel Hallifax. Follow @lovinglansdowne on the gram to see more stunning interior updates.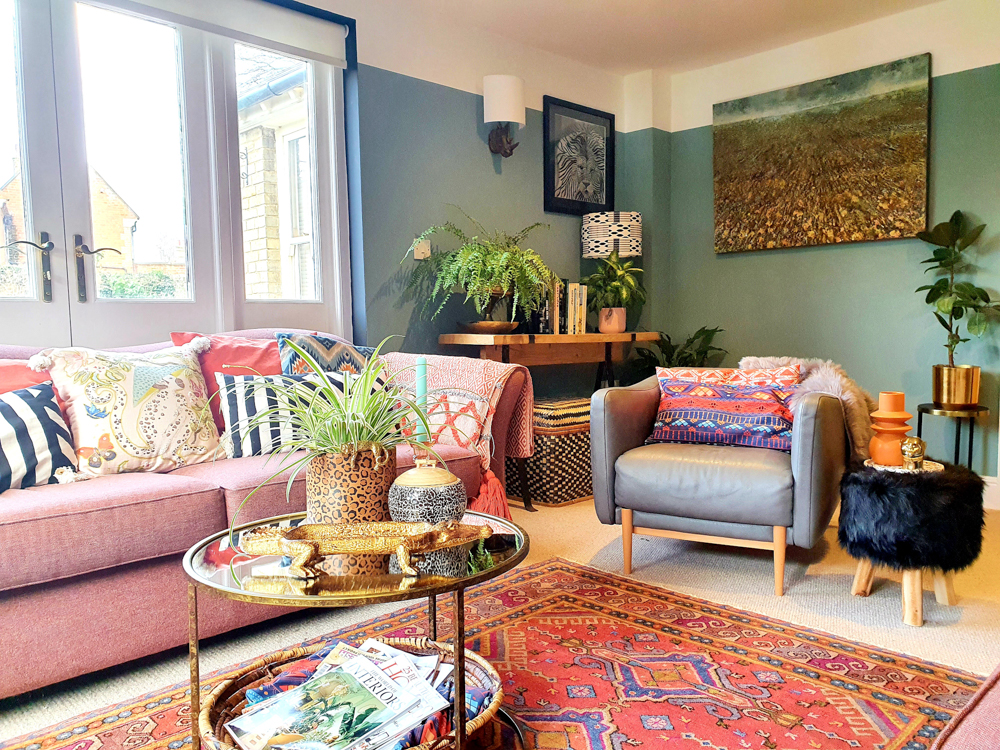 Our Living Room has a very low ceiling but lots of natural light from a large window and french doors to the garden. Pulling the ceiling colour down the walls has made the room feel taller. Using Farrow and Ball Oval Room Blue and working with our mulberry coloured inherited sofas I decided to add one of my favourite accent colours here, orange. To create a successful eclectic style I like to shop at a wide variety of places. I love Abigail Ahern and Anthropologie but I team those splurges with facebook marketplace and ebay finds, as well as supermarket cushions and throws and of course many wonderful treasures from Homesense. I am a Maximalist at heart and believe more is more but it's not about clutter, each element is carefully chosen to work together. It is really important to me that our home is unique and original artwork plays a huge part in creating a bespoke, one-off look. The artwork here is by local artist Peter Corr and depicts the mesmerising beauty of the fen landscape.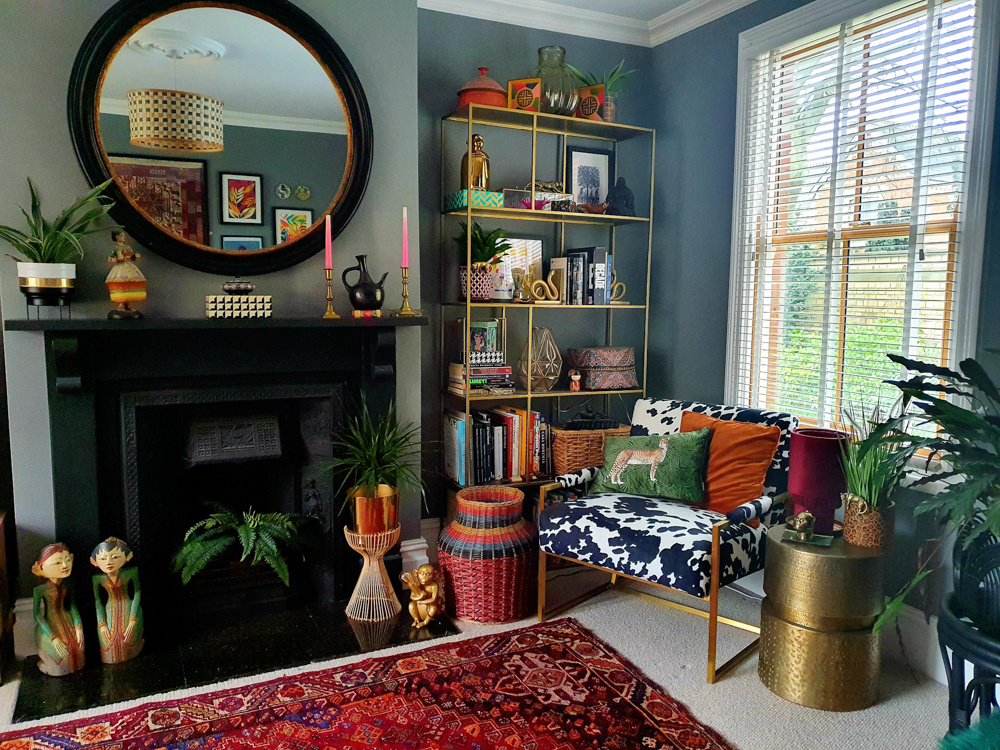 This corner of our Snug has evolved over time with the most recent addition being my gorgeous cow print chair with the stunning gold frame. This was an opportunity to add more pattern to the space and what has become my new neutral – anything that's black and white. I love clashing patterns and using unexpected colour combinations; pops of bright colour work so well in this room. Our decor definitely has a global vibe, my husband spent some of his childhood in Africa and we have travelled together so the house is full of treasures from those times abroad. It's really important to me that most of what we display in the house has some sort of story or connection to us. The focal point of this room is the fireplace. Painting the surround black and adding a large round mirror means that I can create both simple and feature mantel displays which is one of my favourite things to do.
The kitchen is situated in the extended part of our Edwardian home. I am striving to make this space feel less like a kitchen and more like a room. Adding lamps, plants and creating a large gallery wall is the start of the process to soften the space and make sure it fits with the aesthetic in the rest of the house. The colour palette in here is simple, we chose Viridian for the units, pale quartz worktops and a simple black and white colourblock for the walls to really make the artwork the feature. A huge central island provides ample storage and fabricating a chimney breast for the range cooker adds character to a previously dull and lifeless space. The steel topped dining table, patterned cushions sewed together to create a bench cushion, ceramic jugs, cloth runners and wicker fruit bowls all work together to add texture and life to the room. Now I feel this room works on a practical level but is also a cosy, beautiful space to enjoy a good meal with friends and a glass of wine.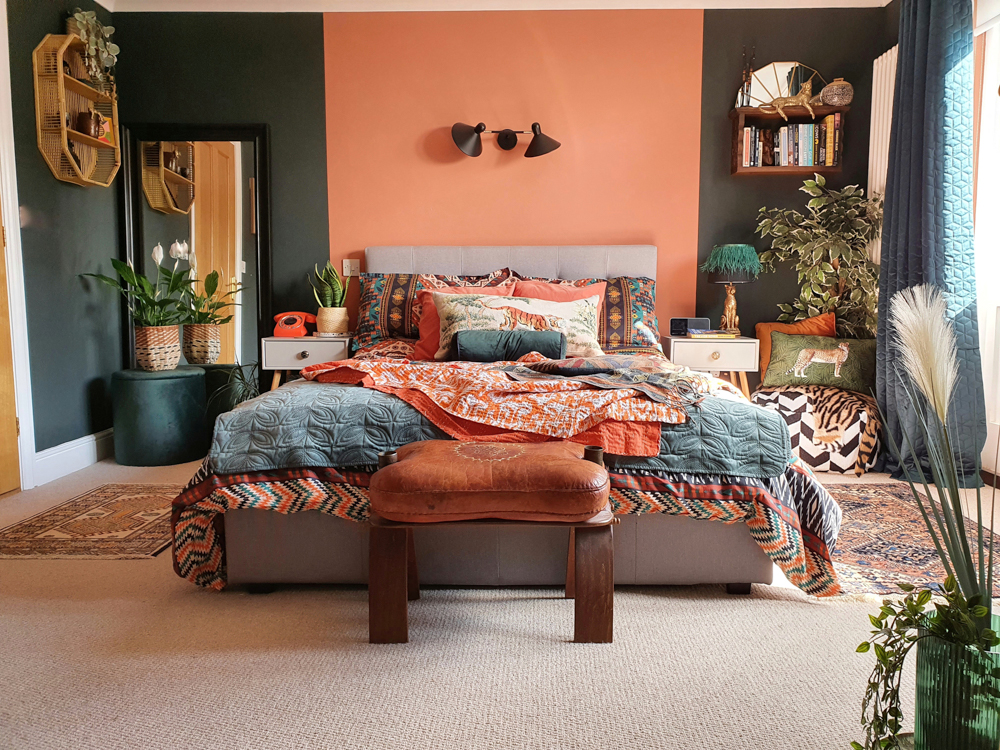 In our Master Bedroom I knew I wanted a bold, boutique look and chose the gorgeous Studio Green from Farrow and Ball as the main colour with a contrasting colour block in Red Earth. I love that the dark colour in here has made the room feel larger but also cosier. Colour blocking is such a quick and inexpensive way to add some drama to a space and we have used it throughout the house. To create a layered and curated look I started with our beautiful patterned bedding from Amazon. The vintage rugs don't match but they share the same geometric shapes and add important texture. I don't think you can ever have too many rugs and, of course, I favour patterned ones! Every room in our home has books, lamps, plants and plenty of cushions, and I was delighted to find a small, carved, wooden shelf at TK Maxx that fits the room perfectly and gave me another surface to adorn.