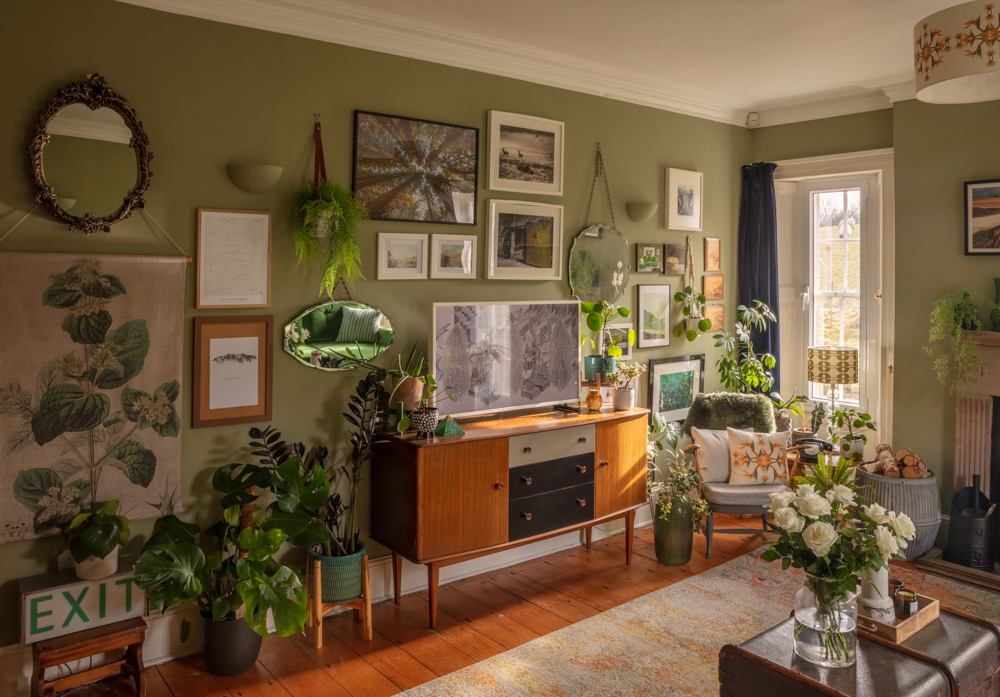 Week 3 of the new interiors series, 4 Corners Of My Home is bought to you by Sharon Lomas. Sharon's incredible home can be found showcased on her Instagram @a_story_of_home .
Living Room
My interior style is based upon the principles of biophilic design as a means to create calm and relaxed spaces that benefit my physical and mental wellbeing. Everything in my home is inspired by nature. I love the sitting room because it benefits from two good sized windows and a glazed door to the side garden which bring in lots of natural light.  I wanted this room to feel like a sanctuary and I achieved this by reflecting elements of nature within the décor, using colour, pattern, texture, artwork and lots of plants.
The wall are painted in "Cley" by Fenwick & Tilbrook, a beautiful mid-tone green echoing my love of woodlands and green landscapes. I chose this shade of green because it works so well as the backdrop to both my vintage and contemporary furniture. My favourite pieces being a mid-century sideboard picked up from eBay and my green velvet sofa made by Living Room. I love vintage finds for their history and character, as well as being a very sustainable way to furnish your home while creating unique spaces. The sideboard also makes an excellent TV stand. Our TV is a Samsung Frame which looks like a framed print camouflaged by the gallery wall. I chose a rug that reflected all the colours of nature I love, it's quite colourful yet abstract, almost a painterly watercolour and just elevates the green on green-scheme. It's called Celestial Sealife from The Rug Seller.
Dining Room
As our dining room opens up through double doors from the sitting room, I wanted the space to work equally well as an individual room as well as one big open space. Our home was built in 1861 so I took inspiration from the Victorian's love of dark décor, exotic finds and displayed curiosities that always make for good dinner conversations. I used "Natterjack" by Fenwick & Tilbrook on the walls, a dark rich olive green that cocoons the room and which compliments the tone of the green in the sitting room. I found the perfect nature-inspired artwork at Dear Sam, mixing vintage bird illustrations with a pineapple print – which no self-respecting Victorian property should be without.
The dining table belonged to my Aunt and I added vintage Ercol dining chairs, velvet-upholstered chairs from Wayfair, along with a dark red Persian style rug (also from Wayfair). My favourite piece in here though has to be the "Maria S C Test Tube Chandelier" by Pani Jurek which I picked up from Lime Lace which I decorate seasonally with flowers or foliage and green coloured water. It a contemporary twist on the classic chandelier.
Favourite corner
In the corner of sitting room, next to the fire and a window with view out to the garden I created a little reading nook, surrounded by many of my plants. I have a thing for plants, I find caring for house plants very relaxing and they give me a direct connection to nature within my home.
The Ercol chair was picked up for £35 from eBay. The arms were worn and the dark brown stain had already revealed the bare wood below from years of use. I sanded back the arms and painted the rest of the chair in grey. The "fern" cushion is made with hand-woven fabric by Sally Weatherill and designed exclusively for Living Room, the makers of my sofa. I love to mix textures and natural materials, and you can't have a cosy corner without a sheepskin rug – this olive green one was a Christmas present from my husband and came from Graham & Green.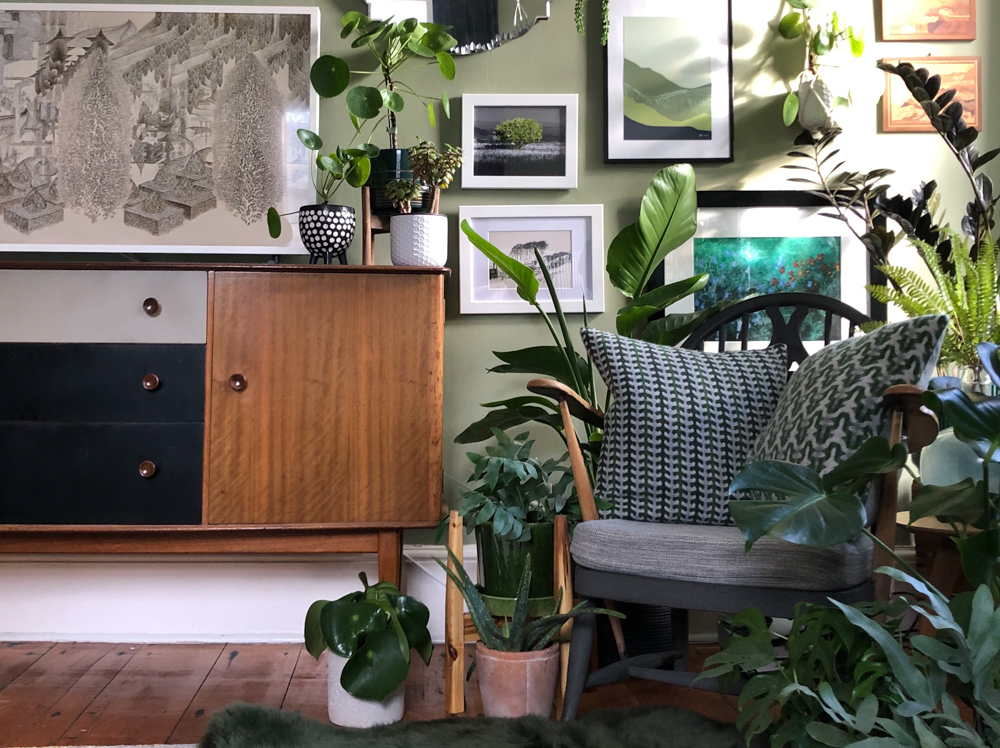 Bedroom
Our bedroom is quite narrow, it's not the biggest in the house but because it has an en-suite we made it the master. I love it because of the high ceilings, original floorboards and two windows which flood the room in natural light. I chose the round wall hanging above the bed from Love Frankie to break up the linear shape of the room. We inherited the pink walls when we moved in. As the bedroom is above a huge Rosehip hedge in the garden, that becomes a mass of pink and green in the summer with the smell wafting up into the room, I decided to use this as my inspiration for colours and accented the pink with green. I really love velvet in the bedroom because it's so cosy and luxurious. The velvet upholstered bed came from Beliani, the velvet cushions from Ikea and H&M home with the pink velvet throw from Very. I love the polka dot bedding from La Redoute and the monochrome fits nicely with the rug from Wayfair.
Find out more about Sharon's biophilic home design services here.