Must-try brunches in Brighton & Hove.
Brighton has so many incredible places for brunch, it's one of the reasons I love living here so much. Whether it's making the most of our local produce or creating a vegan brunch menu that carnivores would happily devour, here are a few of my favourite places that I love to visit.
V&H
V&H was early on my favourite list. Every time a foodie friend or chef comes to visit from out of town it is my #1 brunch recommendation. Their support for local producers shines through in the flavour and quality of their dishes. Taking something very simple and making it extraordinary (I mean their baked beans are unbeatable…). They are also taking good steps in sustainability, for example promoting smashed squash instead of avocado to allow them to stick to their local sourcing. I like that.  All wrapped up in a canteen-style interior that makes you feel like your in on a local secret, it's a must-visit.
Top tip – make sure to enjoy the map on the wall plotting all the local suppliers the team use.
Roundhill
Roundhill have just launched their brunch menu, and oh man is it noteworthy. I went along to the launch to celebrate the fact that with a Veeg card you get a free smoothie or juice with your brunch. I was expecting it to be good, as I'd heard people raving about their seitan lamb roast on Sundays. It even exceeded my expectations. Firstly the pub itself is just a lovely place to have brunch, the staff friendly and they have lego (which entertained my kids while I feasted). The fully vegan menu is very well thought out, stand out dishes include the carrot lox 'smoked salmon' and tofu scramble, the portabello mushrooms on toast and the avocado lime smash. The portion size, freshness and well thought out flavours all make this a must-visit brunch spot, well worth the little jaunt slightly out of town.
Top tip – grab a side of their fiery beans whatever you order. You won't regret it!
Backwood
New kid on the block Backwood takes over Plenty's great space behind the station and comes with some impressive sustainable credentials. They don't have any take-out cups, instead they have loan reusable cups if you forget to BYO – such a good (and bold) idea. The interior is clever too with tables made from waste plywood that looks like designer terazzo. Most importantly the food is a clever, low-impact affair with Turkish routes, the Shahshuka looks great, and the Sabich pitta I had was stuffed to the brim with za-atar potatoes, hummus, roasted veg and pickles.
Top tip – add the mozzarella sticks (they may be the best I've had in Brighton) but watch out the garlic sauce will blow your socks off – perfect for garlic lovers like me.
You juice
Youjuice is such a feel-good haven. From their amazing cold-pressed juice menu to the ever-changing seasonal menu this is the ultimate virtuous brunch option. I often fail to deviate from their chia pudding layered with fresh fruit and homemade nut butter. But can also vouch for their flavour-packed salads. I love to visit just for the atmosphere, especially Youjuice Garage, you can sit outside on the mews, browse one of their cookbook selection and eat and drink your morning away surrounded by minted water and fresh fruit and veg. Anita, the owner's energy is infectious and the staff are some of the most passionate and welcoming I've experienced in Brighton. They also have some great Veeg card offers so always worth having a look on their Instagram for those (if not for the endless fresh food porn).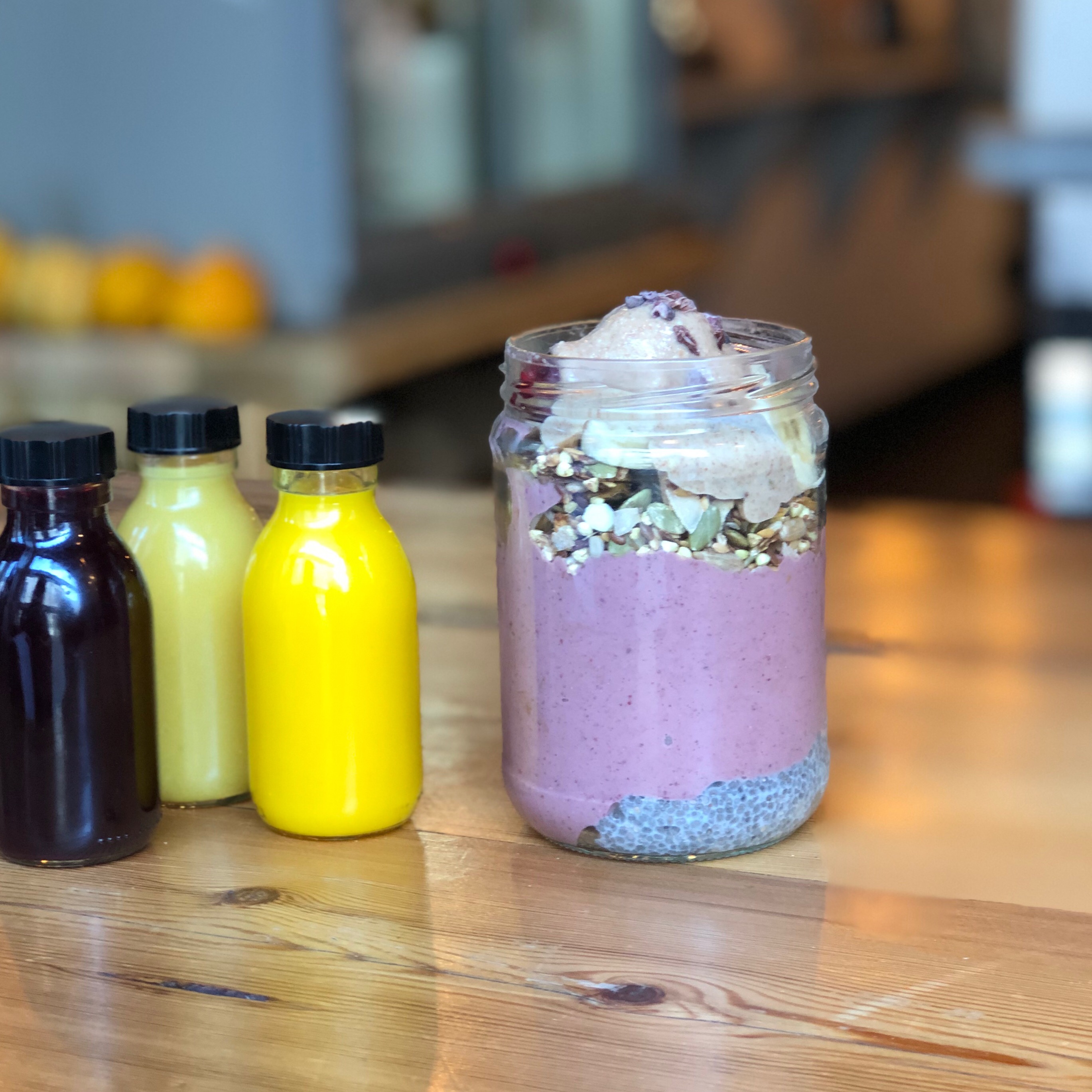 Top tip – all their food is available to go. If you grab a juice to go make sure to pick up a loyalty card. They stamp it when you bring the bottles back and when it's full you get a juice or shot on them (my favourite are the ginger shots).
Have somewhere you love to visit but we might not have tried yet? Hit us up in the comments/ tag us on insta with #365Eats or DM us at @365_magazine !
Author : Alex Higgs ( @foodfoliagebrighton )