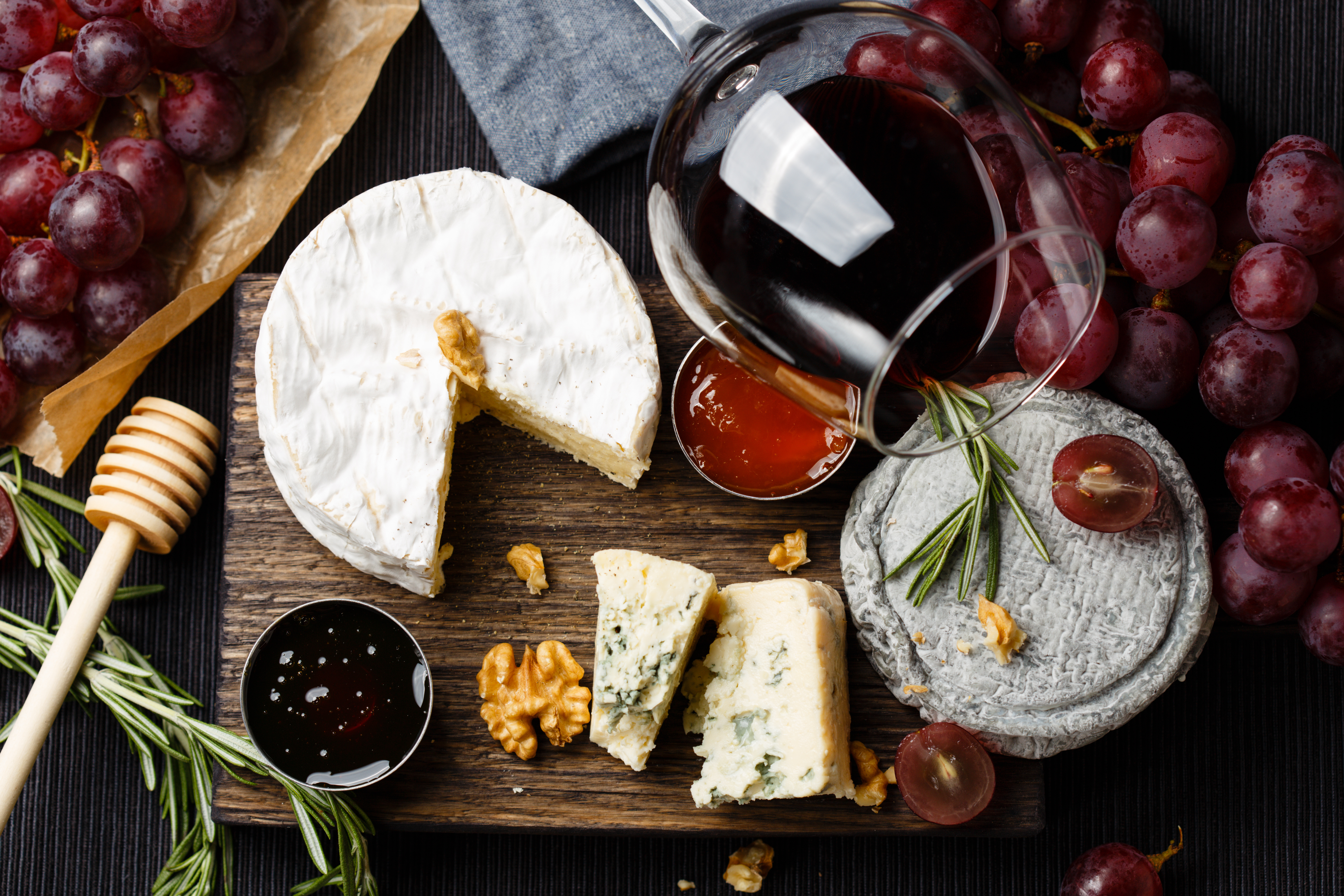 Did someone say Cheeseboard? We all love to indulge over the festive period- cheese and wine are no exception. And if you can't be decadent at Christmas, then when can you? So without further ado, we present to you the perfect five wines to pair with your Cheese this Christmas. Lovingly hand picked by our wine expert and contributor, Giles Cutlack.
Holy Snail Sauvignon Blanc, 2017 – Loire, France
Bucket loads of grapefruit, gooseberry, pear, fresh lime and a subtle touch of tropical fruit.
Sauvignon works beautifully with a tangy goats cheese, but make sure you look for a ripe Sauvignon with lots of fruit to cut through the texture of the cheese.

Puy de Dome Pinot Noir 2017 – Auvergne, France
Elegant, beautifully textured palate with expressive red cherry and spice flavours.
A light delicate red wine grape is a good choice with Brie, a heavier and creamier cheese that needs a light pairing from the wine.
Sandeman Late Bottle Vintage Port – Douro, Portugal
A lively acidity and robust tannins, complemented by an incredibly balanced finish, with just enough sweetness for its cheese partner.
Port's sweetness and body are the perfect partner for pungent, crumbly blue cheese.
Kaiken Malbec – Mendoza, Argentina
Very fruity aromas such as ripe strawberries and dry plums, complimented with chocolate and vanilla notes from barrel ageing.
A Malbec with a touch of chocolate will help soften an aged Cheddar's sharpness.
Footprint Merlot – Western Cape, South Africa
Soft and seductive with aromas of plums and mulberries with a touch of spice.
Soft & Plummy Merlot can work with a range of creamy cheeses and loves a baked or ripe Camembert.
This piece was written by Giles Cutlack.
These wines are available for purchase at South Downs Cellars in Lindfield or Hurstpierpoint.