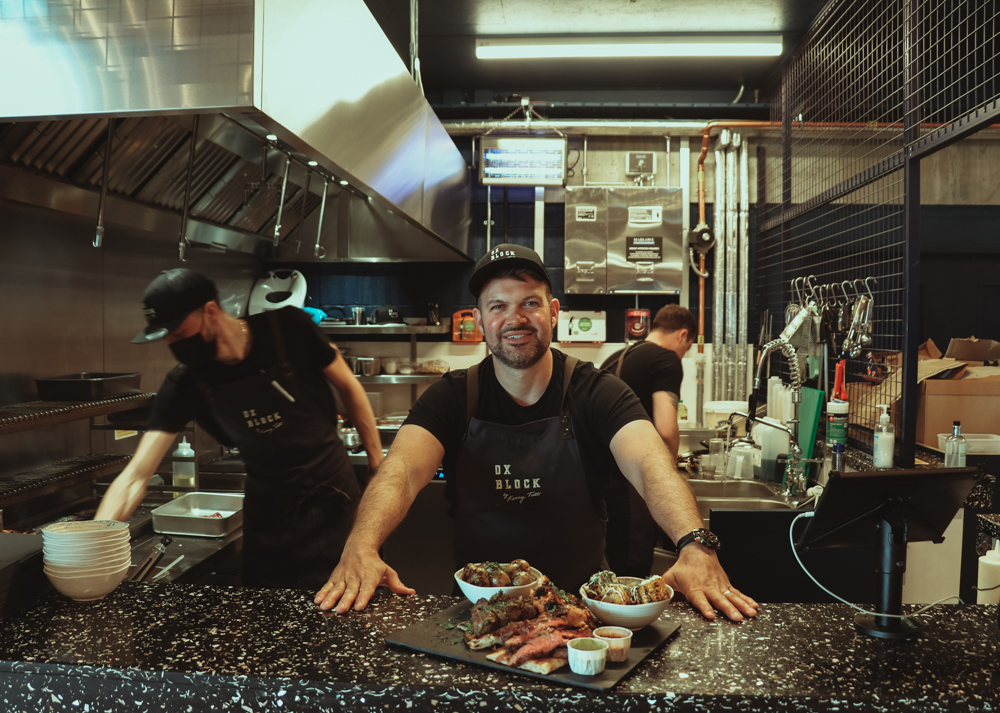 Kenny Tutt stormed into our worlds when we won the 2018 Edition of Masterchef. His post-competition win move was to launch the now very successful A La Carte restaurant 'Pitch' in Worthing, West Sussex. We interviewed him back in 2019 as he prepared to launch his first venture so it seemed fitting to touch base against post-pandemic to discuss his new ventures.
March 2020 – Worldwide Pandemic erupts around you! Pitch has to close. What happened next?
Around the time of the first lockdown, we had suspicions something was about to go seriously wrong in the UK. We had some vague background plans with the pie venture going on so we managed to get this off the ground pretty quickly. Selling the best pies in Worthing on a takeaway service. Whilst we were really happy with how well it was received, we had a few teething issues with packaging and transportation. We couldn't get our hands on the right packaging for love nor money. So when furlough was bought in, it felt like the right thing to do. It allowed us to keep employees with an income. The pie venture was just too tricky to make it work at the time with packaging logistics causing so many issues.
How did you take it personally? Jumping off the hamster wheel…Pitch was going so well!
I would say I'm pretty good at handling tricky situations. I was lucky enough to have the finances in place to keep a roof over my head, everyone in the family fed and all the fundamentals in place. I also managed to retain all my staff, so I was okay with what was happening generally. In hindsight, the first month or two of not working flat-out were really much needed, I think for my staff too. So, I'm grateful I had the time to sit back and take stock.
So you've had some time now to reset and think about the business and it's direction. Where do you go from here?
Exactly. I've had some much-needed time to think. And I start to formulate a plan. How can we make the best out of a bad situation? So we bought a street food truck. We were selling hearty products, like our steak sandwich, super-rich, luxurious, mustard, crispy onions- the works. Not for the faint-hearted. We wanted to keep our Pitch brand alive. We installed a wood-fired oven to cook our meat, giving a twist on the traditional purpose of a wood-fired oven. We managed to find a permanent spot, and I was amazed at the turnout and support we got. This is actually where Ziggy (new head-chef for Ox Block) really came into his own. I handed over the reins and let him run with it, gave him a chance, and he really came through for us.
So Ziggy's the man to watch?
He's a really top bloke. He cares about his work and he's a very talented chef.
What led to the birth of Ox Block?
We were approached by the team at Shelter Hall initially to bring the truck down here, and after more lockdowns and restrictions changing we then started the discussions around doing a kitchen here. Shelter Hall are real supporters of smaller, independent businesses. Honestly, it gave me sleepless nights at first! The worry of growing too quickly. It's a scary time to start something new off the back of a tricky year. However, as you can see, we ended up going for it as it felt like the right thing for the business!
Describe Ox Block in summary.
I am a meat eater at my core. I love it. But I love sustainably sourced and high-quality meat. I wanted to create a restaurant that was focused on all meat being British, and as locally sourced as physically possible. The concept is very simple, high-quality, uninterfered with meat. British, seasonal produce. All cooked over coals, in our kitchen here at Shelter Hall!
What was the inspiration for Ox Block?
I have just always loved the concept of cooking over the grill! I love a barbeque. So British! Being able to do that on a scale like this was an opportunity not to miss.
Hero dish?
Is it bad to say our dessert? Our deep-fried oreo dish served with dulce de leche ice cream is seriously hardcore, you have to try it. My favourite right now.
Ox Block isn't the only big move you're making. You're also launching a new seafront restaurant in Worthing- Bayside Social. How are you making it all work?
You're going to laugh, but I always refer to Worthing as the new Miami. Jokes aside, it's up and coming. New businesses, small businesses, great restaurants, great bars, there's a lot going on. We threw our hat in to grab the venue, and somehow our punt worked! We're so happy we got our hands on it. Again, another opportunity we had to take. Don't be fooled, it's been a little bit of a 'beg, steal and borrow' situation. It's been tough this past year, but we're going to make it work.
How will it differ from Pitch?
Pitch is very A La Carte at it's core. We're going to be doing more small-plate style dining at social, a little bit less formal to fit the tone of the location. We're going to offer brunches too, all gorgeous and fresh locally sourced produce.
When can we expect to see Bayside open?
We're hoping to open towards the end of July…watch this space.
Do you reckon you'll have a little break after two openings in a year? Or is the sky the limit?
I won't do anymore…for a while! Do it small and do it well.