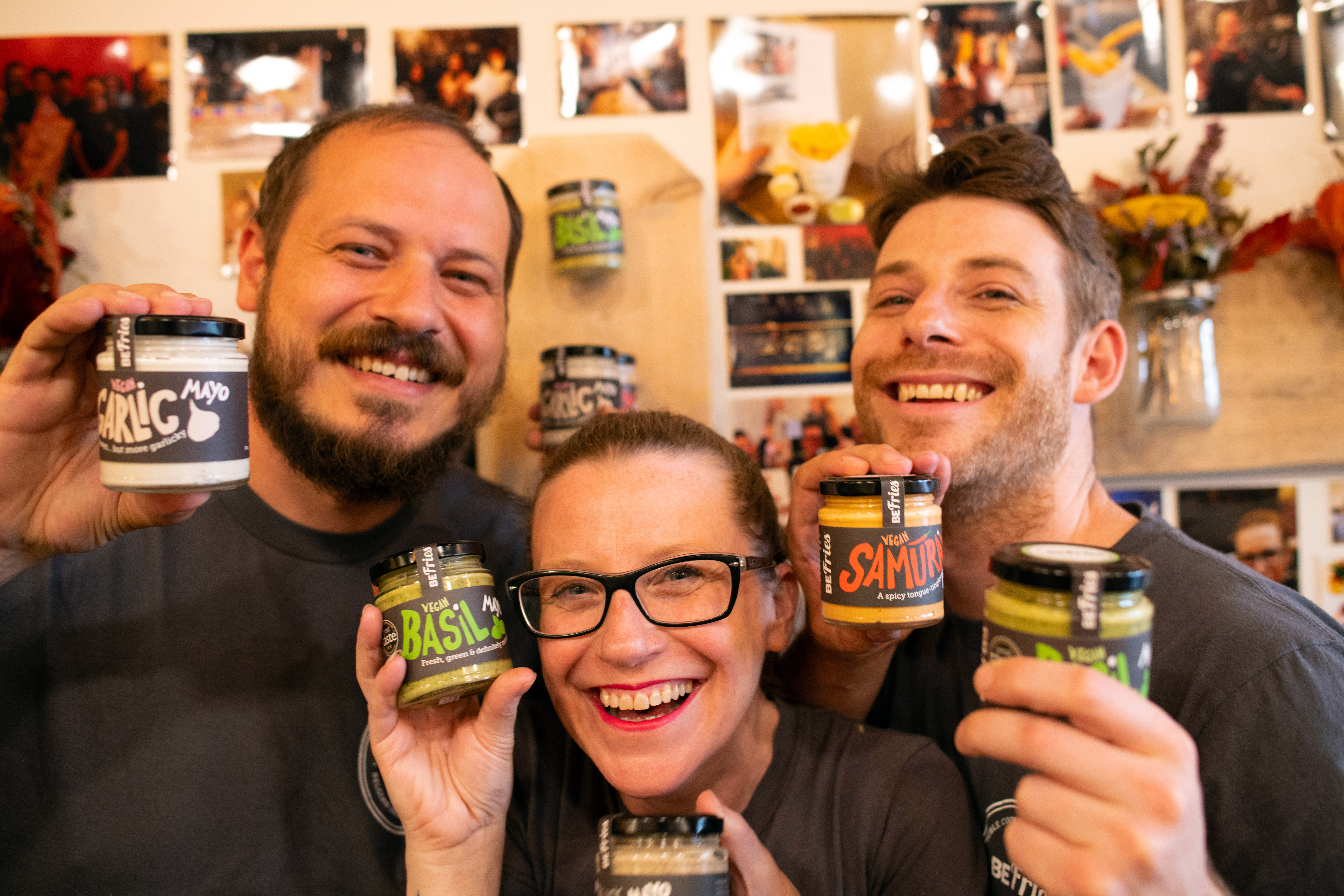 Brightonians. BeFries. We all know and love it, we all support it and their sauces are to die for. But maybe you weren't aware of the Kickstarter campaign they are currently running, to help them with their vision to become the UK's biggest supplier of Vegan sauces!
Amsterdam born and bred sibling trio Dashal, Chan and EzdaBeevers opened BeFries in 2016, bringing quality, Belgian-inspired double-cooked chips to the shores of Brighton & Hove, accompanied by a varied selection of exceptional house-made sauces.
As they approach their third year since launching in the vegan capital in 2016, Brighton's multi-award-winning family-run chip shop BeFries are taking the next step in their business and launching their much-loved range of delicious sauces to a national audience — but they need a little bit of help to get there. From Monday 8th July, BeFries will run a 30-day crowdfunding campaign with a goal of £30,000 to fund a new kitchen and manufacturing equipment to upscale their production capabilities for the debut of their sister sauce company, BeSaucy. BeFries have already sold 10,000 jars of their much-loved sauces — which include vegan black-truffle, vegan garlic, and vegan 'samurai' (a light chilli) mayonnaise — to locals from their shop onWest Street, allowing customers to take their favourite condiments home with them.
But a run of successful appearances at food markets and industry events over the last year has seen the sauces' popularity surge, and now outlets outside its hometown – including Planet Organic, the UK's largest fully-certified organic supermarkets in the UK – are keen to start selling a selection of BeFries' premium condiments themselves. BeFries' best-selling Vegan Basil Mayo also won two stars at last year's Great Taste Awards, making it their highest awarded mayonnaise of 2018, bringing the brand more widespread attention.
As demand for the sauces increases, the independent Belgian chip shop needs more space and equipment to fulfill demand from both retailers and new and regular customers – with a target of£30,000 needed to build a state-of-the-art production kitchen for their premium sauces. BeFries co-founder Chan Beevers, whose career as a chef saw him cooking for Queen Elizabeth II, and awarded him the expertise to come up with the recipes for the brand's sauces with his brother Joe, said: "Between Joe and myself, we've been chefs for over 35 years, and we brought all that experience with us to create new sauces and flavours of the highest quality for BeFries."We only use fresh ingredients, giving our sauces the richest of flavours, and we make our own vegan mayo – even non-vegans have told us they can't taste the difference! Due to the rise in demand for our sauces from stores that want to stock our products, we need to invest in equipment to increase our manufacturing capabilities. We would love your support in joining us on this saucy journey and to help us realise our vision of having our sauces in a store near you.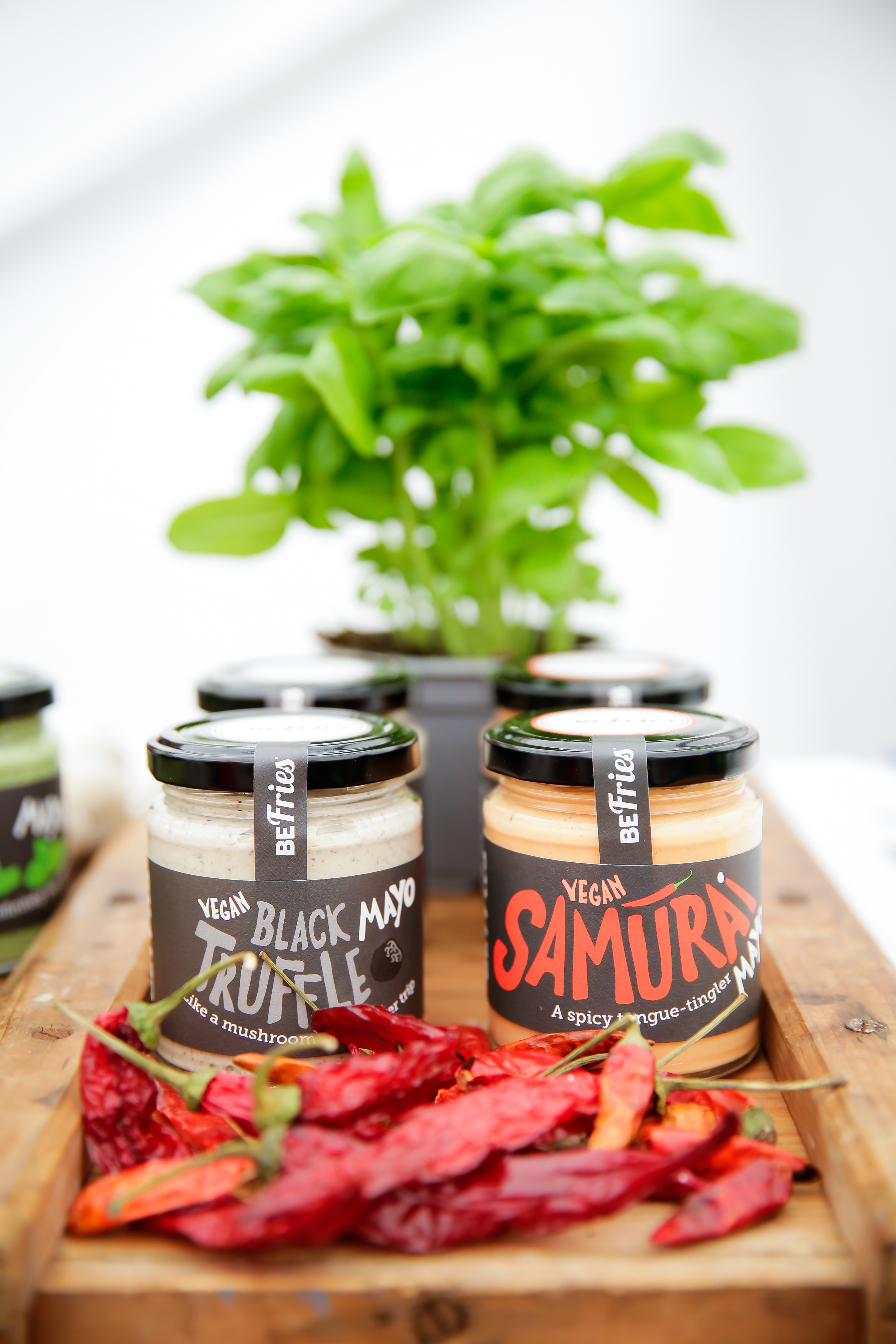 For anyone who gets involved with the Kickstarter campaign the trio have listed a number of incentives, including releasing new flavours exclusively to supporters, including a vegan smoky barbecue, jerk mayonnaise, and a brand new lime and coriander sauce. There will also be a number of exciting experiences and prizes available for supporters, including private dining events, one-off merchandise, lock-ins, and many more. These special rewards will be gradually released across the course of the 30-day Kickstarter campaign, which will also take independent donations until 11.59pm on Wednesday 7th August 2019 – two days after the outlet's third birthday. BeFries has created a promotional video which sees the team up to their usual hijinks, recreating the iconic lineup scene from the 1995 film The Usual Suspects (or The Usual Saucepects!).
To support BeFries on their latest venture, visit the Kickstarter campaign here.