Back in February, I was kindly invited to The Black Horse in Amberley to have a chat with the gorgeous Emma Kennedy, owner of this fine establishment.
Over the past year, Emma and her husband Johnnie have refurbished The Black Horse to its' former glory and then some. Officially re-opening on the 1st of December 2018, they took a big risk and it certainly paid off. Read on to find out a bit more about why you need to add this to your list of the best country pubs in the South to visit.
As you enter the pub you find a warm and surprisingly bright interior. Typically country pubs can be quite dark and unwelcoming but 'The Black Horse' has been refurbished to an extremely high standard.
On your left, you have a private dining area aptly called "The Tack Room" where they can cater for parties of up to 20 people at no extra charge, which is a great idea if you have a large family for lunch one Sunday, or an intimate meal planned for a special celebration.
The bar in the front of the pub is open and welcoming and they have established an extremely impressive wine list, something Emma tells me, later on, is something she always thought very important, and that she has been "lucky enough" to build a very good relationship with their supplier so that they can offer some of the best wines around. Asides from an extensive wine list you will find locally sourced ales and a solid selection of spirits.
At the end of the bar area you have a gorgeous open fire with comfortable sofa seating where you can relax and enjoy your drinks or a snack from the bar in an informal setting. Going into the main restaurant you are greeted by another stunning open fire, and most impressively an open kitchen, where you can see the chefs hard at work. The interiors are classic of a pub but you can definitely tell how much effort Emma has put into ensuring that every attention to detail has been met. Such as the quirky crockery that has been made and sourced locally. She proudly tells me over lunch that even though they are producing a very high level of food, she wants "people to come and relax, and enjoy themselves in an informal setting".
Over lunch we discussed the renovation of 'The Black Horse" and Emma tells me how they wouldn't be in the position they are today "without the support of our incredible local community, who were integral in the re-opening of the pub" as they all supported herself and Johnnie to reach their dreams of refurbishing 'The Black Horse' into a destination pub.
I managed to grab a quick five minutes with Head Chef Tom Hayler and he explained to me how 'The Black Horse' was serving "classic pub food, but refining the classics." With locally sourced ingredients, always.
After lunch we explored the "The Garden Room", the latest addition to The Black Horses's refurbishment. It is a café/ dining room which opens out with bi-fold doors onto a superb patio area, that leads up to their garden. The garden itself features the most stunning views over the glorious South Downs, and Emma and I excitedly discuss how we could see ourselves reclining on of the very comfortable outdoor seating areas with a glass or two of ice-cold rosé during the summer months. "The Garden Room" is somewhere that people can go to grab a coffee or some breakfast and do some work, or to enjoy a slice of cake in the afternoon or just a light and informal lunch. They are installing a pizza oven which will be used when the restaurant is closed, so that people can still come and enjoy a hot meal at the pub, even after usual service hours.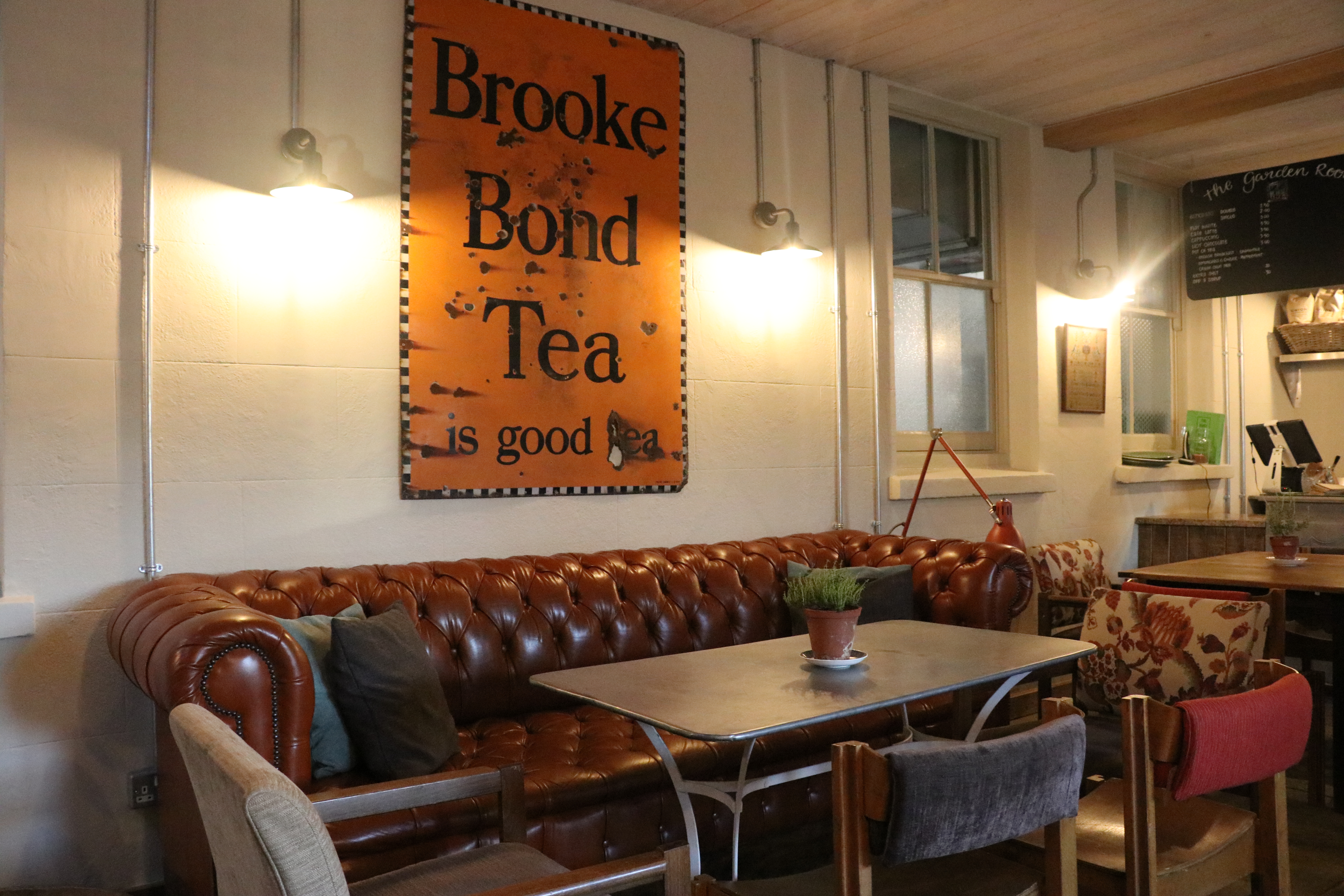 In essence, The Black Horse in Amberley is one of those "little gems" that everyone needs to know about. What Emma and Johnnie have created from their wealth of experience and time in the industry is an elegant, classic and timeless establishment where you can go and enjoy a cosy glass of red by the fire with your loved one (dog's welcome!), you can feast with your family over sumptuous Sunday roasts in the main dining room whilst you watch the chefs hard at work or you could grab your best girlfriends/ boyfriends and take over "The Tack Room" for a more intimate dining experience on a special occasion. Or just a Friday – whatever takes your fancy! The menu is classic and reasonably priced, the wine list is extensive but not over-facing, and the atmosphere is buzzy. This paired with the impeccable attention to detail on interiors and extremely friendly staff really does make for the dream country pub.
Convinced yet to visit? Click here to visit their website and book now!