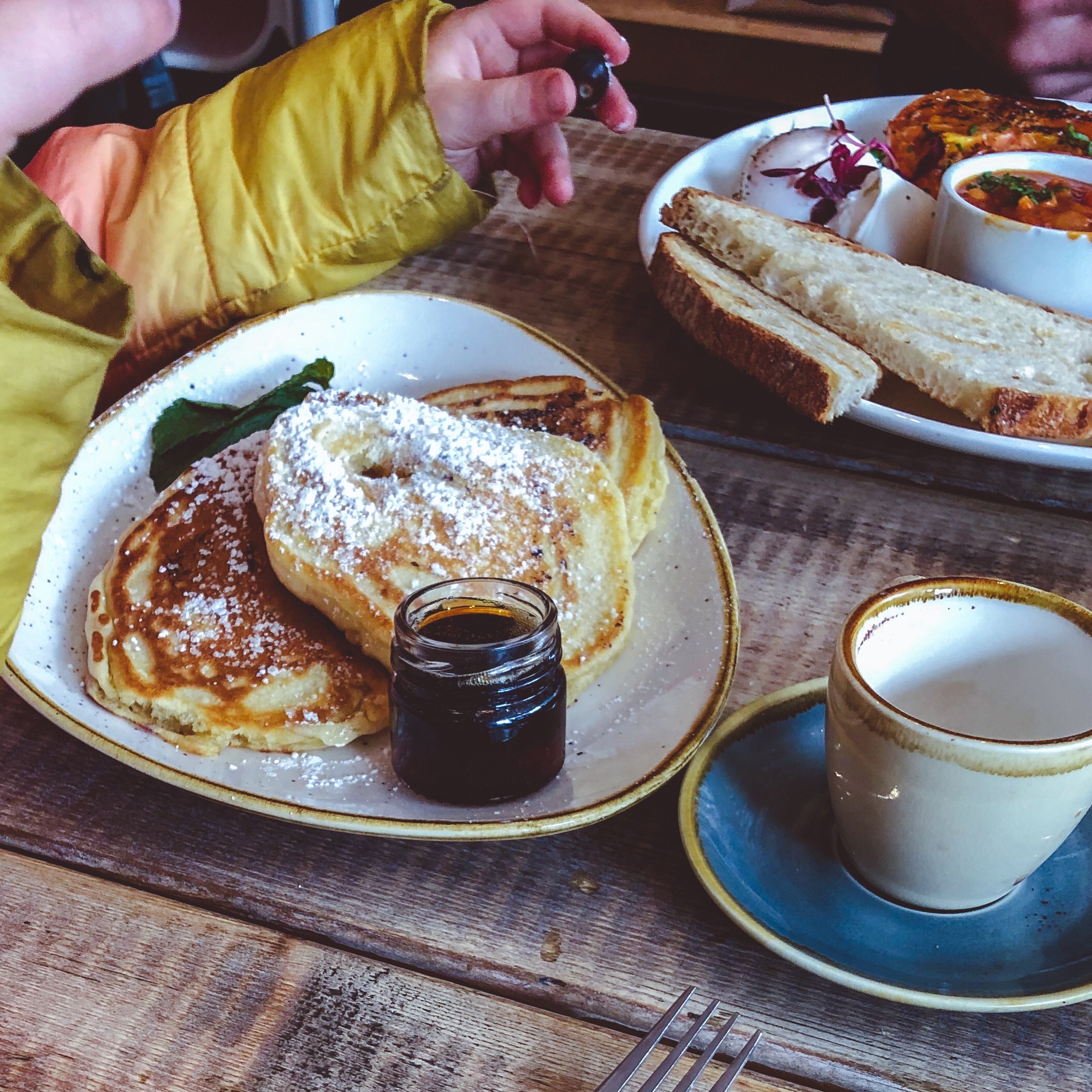 Brunch is THE easy eating out option with kids. Not to mention a great way to spend a free weekend morning with your nearest and dearest. Here's a list of 5 Brunch ideas with children in Sussex.
Starfish & Coffee- Queens Park, Brighton
Starfish & Coffee, is an ultra child-friendly coffee shop with no compromises for grown-ups. The perfect place to kick off the weekend with even the littlest members of your tribe. The choice of brunches, especially the kids' selection, is nothing short of awesome. Think smashed things on sourdough, homemade beans, pancake stacks with all the trimmings, decent coffee (from locally roasted beans) and trendy teapots. The food delivers; it's delicious. And if there's extra energy to burn off before or after, you're just opposite Queen's Park. An ideal family-friendly morning out.
(https://starfishandcoffee.cafe)
The Bull, Ditchling
The Bull is a gorgeous gastro pub in Ditchling. If you fancy treating the family to a 'slap-up' brunch, this is the place for you. It's more sophisticated than the others on the list, but don't let that put you off. It's very family-orientated. The Bull's garden won Best Pub Garden 2019. It's a beauty. And best of all, the play area is excellent. The brunches are simply delicious and there's a well-thought-out menu for kids. Plus help yourself bottomless toast and toppings while you wait. Or for breakfast pudding. The Bull pride themselves on using lots of lovely locally sourced ingredients including fresh, organic eggs from The Macs farm just up the road.
(https://thebullditchling.com)
The Perch, Lancing
We're big fans of The Perch. It's a cool seasidey diner on the beach with a laid-back, fun vibe. It's fab come rain or shine, which is just what you need at this time of year. I adore the massive windows that give you the best views over the sea. And if the weather's being kind, you've got the beach on one side; a skate and play park on the other. There's a great brunch menu offering everything from smoothie bowls to pancake stacks, classic fry ups to the continental. There isn't a separate kids' menu, which is a shame, as the portions are huge (even for grown-ups). If your kids are little I'd recommend sharing something with or between them. This is the perfect place to head for a chilled family morning. In fact, it would be my go-to.
(https://www.lancingperch.com/)
The Sportsman, Goddards Green
[The Sportsman](https://www.thesportsmanpub.com) is a homely pub nestled in the heart of mid-Sussex. Kids are made to feel very welcome. And because it's a country pub, there is stacks of parking and a fab garden with a play area plus lots of space inside. I spied a box of toys for rainy days but as my two are iPad junkies and the pub has WiFi, Netflix and trashy apps, ahoy. Just don't forget their headphones. The menu's pretty diverse. You can max out the English or opt for baked eggs tapas with chorizo and potatoes. Although, they don't have a specific kids' menu for brunch the pick and mix breakfast selection does the job nicely. I love that they use Lindfield Coffee Works beans and have an overflowing community noticeboard at the entrance. A super friendly local's local.
(https://www.thesportsmanpub.com)
Moksha Caffe
A firm favourite that had to included in our 'Brunch ideas with children in Sussex'- Brighton Moksha. They won the 2019 Bravo Award for best brunch in Brighton. And I can see why. It's very, very good. The brunch menu at Moksha is vast. There are loads of options, including plenty of vegan options, not just token avo on toast. The 3 kids' brunch options are pretty classic crowd-pleasers. And if you have a breakfast hater, there are lots of other snacks and lunches. The atmosphere is very Brighton. And I've got a big soft spot for my old stomping ground. It's super friendly, chaotic and buzzy in a way I've only really experienced in Brighton. There's a diverse mix of families, couples, and groups of 20-something friends – everyone welcome. You might have to wait for a table, but I would. It's worth it for the divine pancake stacks.
So, there you have it. Start the weekend the right way with a family brunch of dreams.
Image credit – @sussex_born_and_fed
Author – Katie Yarde (https://sussexbornandfed.com/)