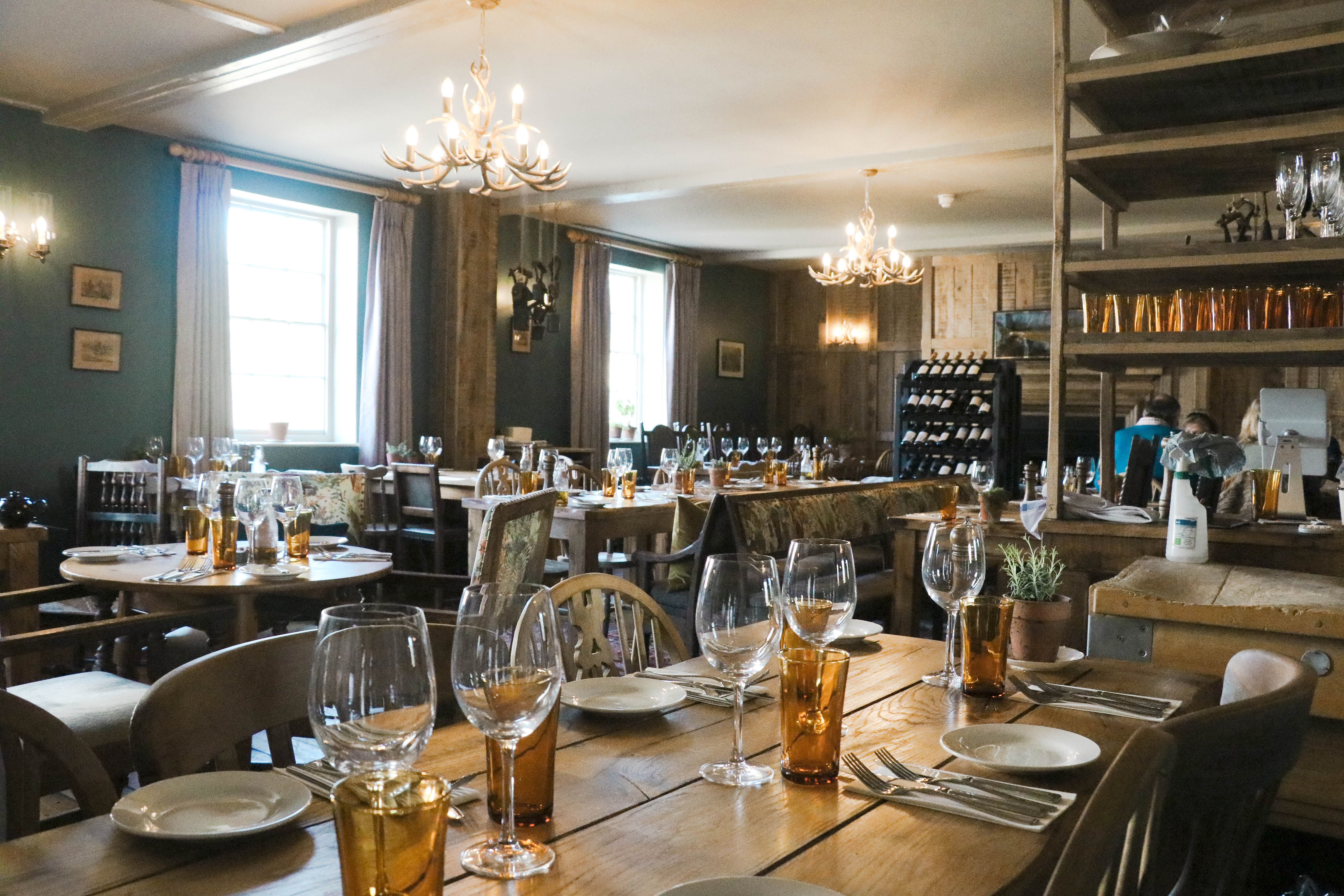 At 365 we like to think we know a thing or two when it comes to pubs! So we have kindly created you a 'top 10 must-visit pubs this festive season' guide to get you in the mood for your upcoming Christmas celebrations. We are talking open fires, hearty – locally sourced food and of course a cracking wine list. And as avid dog lover's we have personally been assured that every pub featured in this guide is COMPLETELY dog-friendly.
The Lockhart Tavern, Haywards Heath
A pub from the iconic and local Dark Star Brewing Company, The Lockhart provides an EPIC selection of craft beers and plentiful guest ales. A gin lovers paradise, the Gin selection is abundant too with many local companies seen behind the bar, all served in heavy-based crystal style jars. Just perfect. Go here for roasts, brunches, and exceptional food every day. This pub never fails to disappoint.
RH16 3AS, 01444 440696
The Fountain, Ashurst
Cited by the Guardian newspaper as one of the top 10 cosiest pubs in the UK, the Fountain Inn is a shining example of the great traditional English pub, complete with wonky floorboards, inglenook fireplaces and the heart-warming smell of home cooking wafting in from the kitchen. Pull up a chair by the the ginormous inglenook fire, find a cosy table for two in the bar or bring the whole family together around the big solid farmhouse table for a hearty Sunday roast. Dogs welcomed with open arms in the bar area.
BN44 3AP; www.fountainashurst.pub .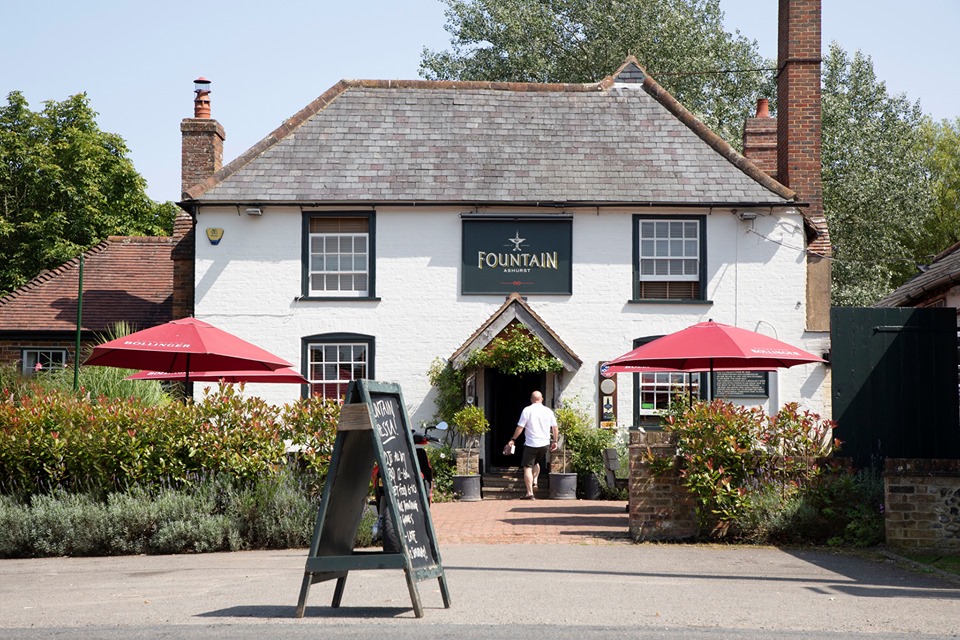 The Royal Oak, Wineham
It's hard to get any more traditional than The Royal Oak pub in Wineham. This 14th-century building is bursting at the seams with character and the locals who frequent provide entertainment aplenty. When you walk in you see the tiny bar which features no taps. Ales are poured straight from the barrel and the menu changes daily. Huge iglenook fireplace, bags of charm and the best Bloody Mary in Sussex.
BN5 9AY,01444 881252, https://theroyaloakwineham.wordpress.com/
The Black Horse, Amberley
The Black Horse is an 18th century freehouse and family-owned establishment. An open fire awaits you in the stunning bar area. An extensive wine list, an open kitchen and welcoming staff, what more could you want. The food is second to none but in the week you can enjoy this all at an extremely reasonable price with their set menus providing something for all. Of course seasonal and local produce plays a massive part in what they do here but it is perfectly executed. Read more here>>>
BN18 9NL, 01798 831183,https://www.amberleyblackhorse.co.uk/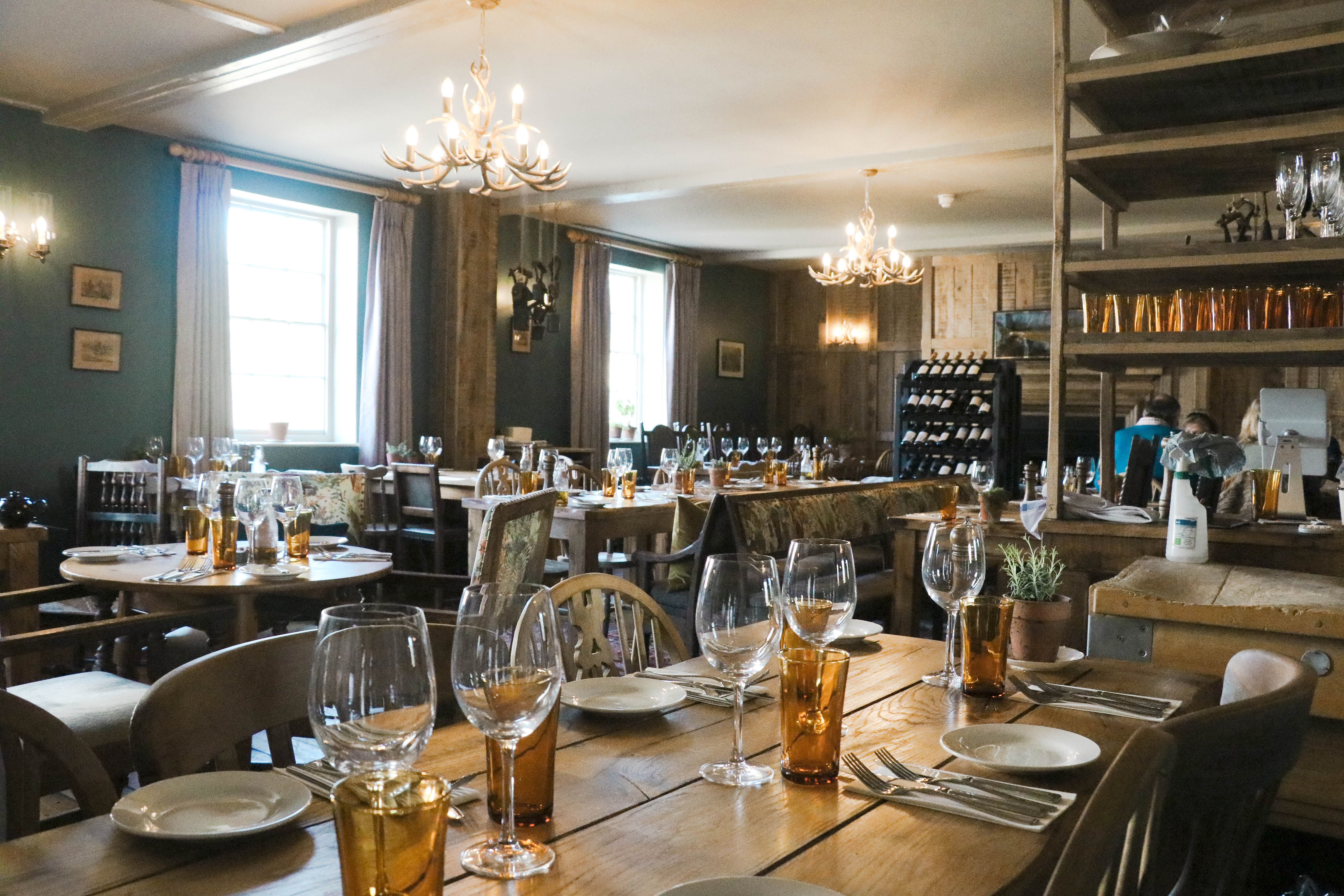 The Cowdray Arms, Balcombe
The Cowdray Arms is the brainchild of owner Neal Hayes. His vision to bring a new concept to the area which involved all locally sourced produce. From the food they cook to the gins they serve, there is a clearly a real nod to the food and drink produced around this pub. He joined forces with friend and Michelin star chef Stephen Crane to bring you a great locally sourced menu. He also added a 'Gin Corner', so we are completely on board.
RH17 6QD, 01444 811280 , https://www.thecowdrayarms.co.uk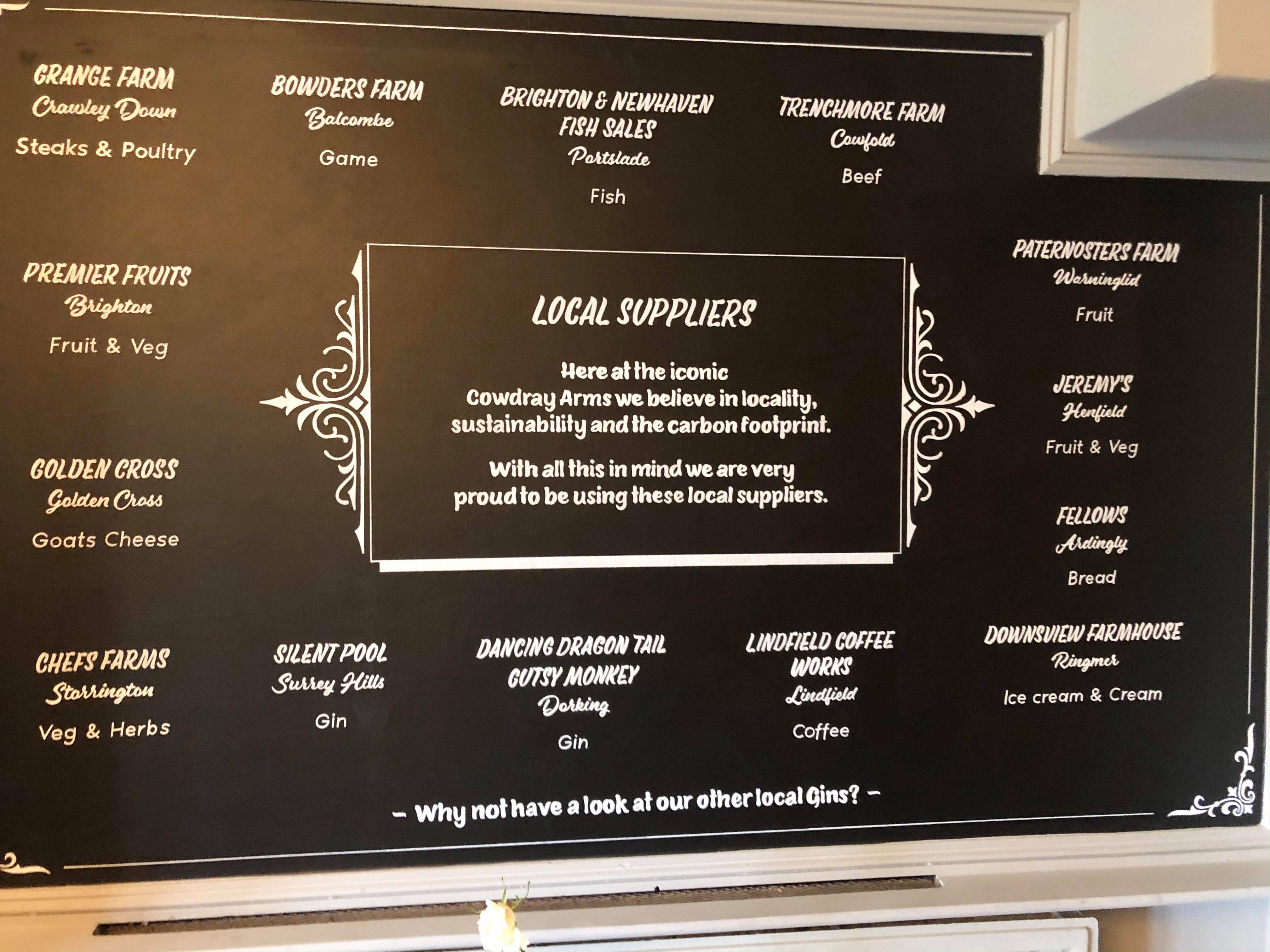 The Shepherd and Dog, Fulking
Just outside Brighton at the foot of Devil's Dyke – a popular spot with walkers and cyclists alike. There is an impressive selection of real ales on offer, including local and craft breweries. Diners' options range from hearty pub grub to fine locally sourced cuisine for special occasions.
BN5 9LU, 01273 857382, shepherdanddogpub.co.uk
The George and Dragon, Shipley
The George and Dragon is a small pub, set not too far from the A272. There is a tiny flag-stoned bar inside the pub so make sure you're comfortable to be close to the locals! It's now a freehouse with beers such as Brighton Best and Hophead, from breweries such as Dark Star. You can stay here also in one of their charming rooms. Cosy open fire, dogs welcome, farmers likely.
RH13 8GE, 01403 741320, http://thegeorgeanddragon.co/
The Crown & Anchor, Dell Quay, Chichester
The best without a doubt for fish- The Crown & Anchor is set in the stunning Dell Quay marina. A real traditional 16th century pub, incredibly friendly staff and a knock-out menu of the freshest fish you can get. If you catch this place on a clear day you can grab a table by the window and see for miles whilst you wait for your food to be lovingly cooked from the open kitchen.
PO20 7EE, 01243 781712, crownandanchorchichester.com
The George, Burpham
A charming 17th century pub at the heart of a traditional Saxon village in the glorious South Downs National Park. Formely named "No.1 Pub to Walk to" by the Sunday Telegraph, a warm welcome, classic food and superb service awaits you. They serve up rustic British food with an edge, always home-cooked with the freshest seasonal ingredients- locally sourced always.
BN18 9RR, 01903 883131 ,www.georgeatburpham.co.uk
The Bull, Ditchling
This charming pub with elegant decor offers a large range of local beverages, including wine from local award-winning Vineyard, Ridgeview Estate. It does get packed on weekends, but this is the sign of a good pub. Arrive early for drinks or make sure you book! The food is some of the best around and the pub serves a top-notch roast. Walking opportunities aplenty- if you're able after your lunch! Ditchling is within the South Downs National Park and the nearby Ditchling Beacon is popular with walkers. Alternatively, book a room- they are exquisite. Prices start from £140.00 in peak season.
BN6 8TA, 01273 843147, www.thebullditchling.com
Have a particular favourite you think we missed? Comment below !