Now one of 17 Giggling Squid restaurants, The Giggling Squid Brighton is a firm favourite and one of the best Asian restaurants in town.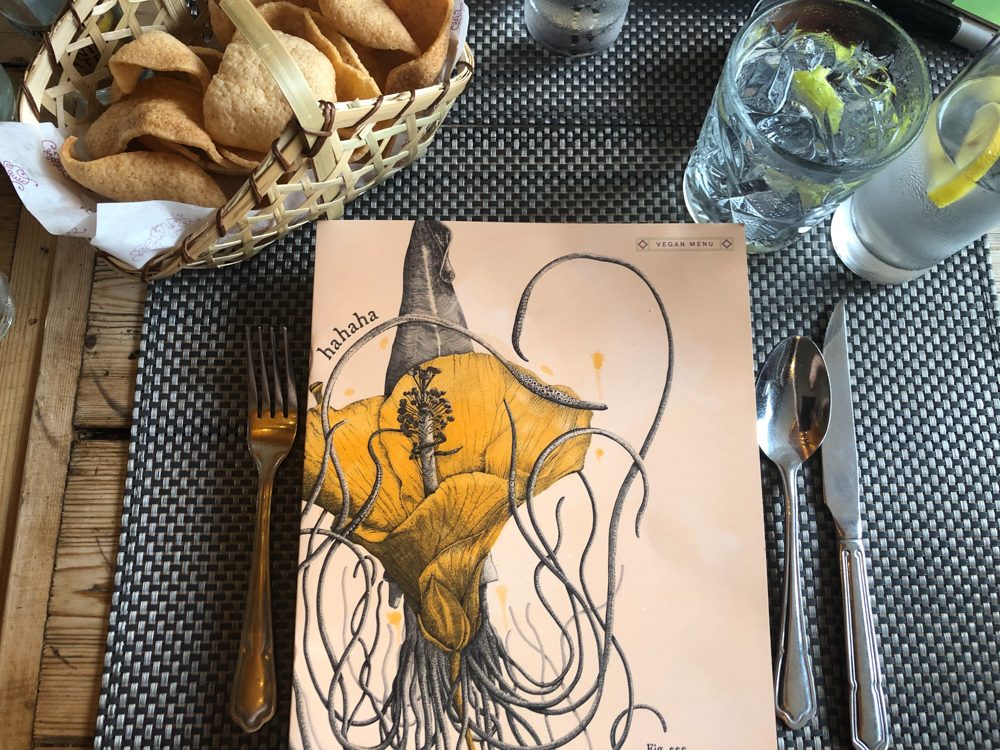 The menu change keeps all the old favourites that customers come back for time and time again (need I mention the thai-green curry) but infuses even more fresh, fragrant food that escorts you straight to the back streets of Bangkok and the vibrant produce markets. They also now have a
vegan
menu which features one of the stand-out dishes for me from the night.
Greeted with spicy prawn crackers and a chilled glass of Chenin blanc, I can see why the bright but cosy interior is a favourite for friend's date nights. It was my first visit to Giggling Squid and I couldn't wait to try all the dishes. Getting to try a host of starters is ideal for an indecisive eater like me, and I'm so glad I didn't miss a thing.
First off you can see why their Salt & Pepper squid is a customer fave – I've never had such perfectly cooked quid, not at all chewy, and a perfectly crisp batter with the right amount of heat.
Speaking of perfectly crisp batter, the spring rolls were spot on – freshly fried so the vegetables were still with bite, I never get excited about a spring roll, but these certainly got my attention.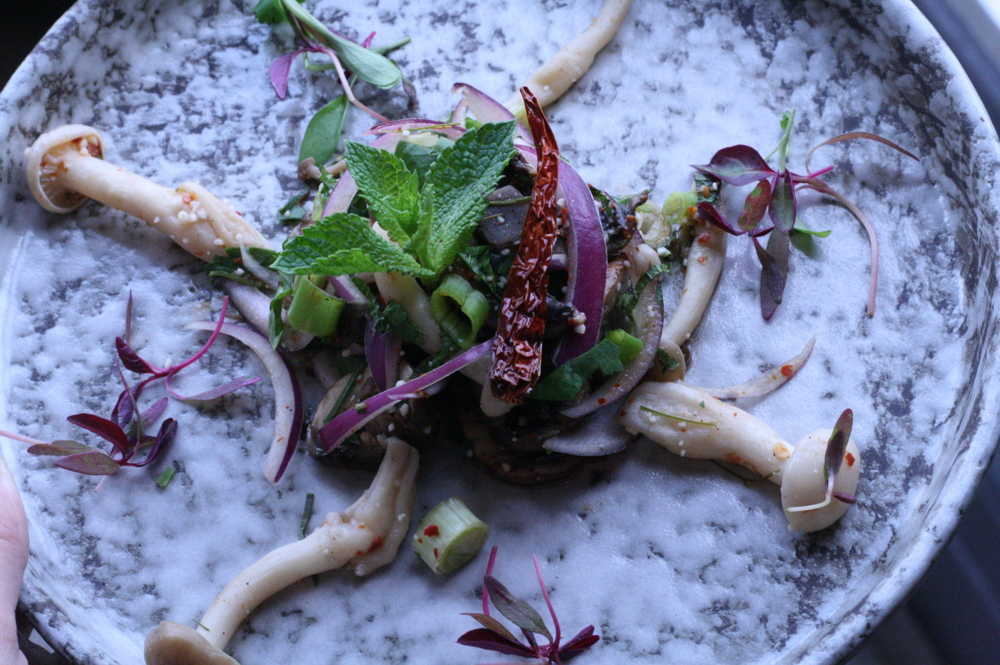 Two of the starters really struck me for graceful, clever flavour. First, the Big flavour mushroom larb – 'juicy exotic mushrooms tossed in a power-punch of fresh mint, dried chilli, ground toasted rice and shallots'. It was refined and packed a flavourful punch, a speciality from the Esan Province. Secondly the Lemon and lime tuna 'petals' – 'slices of raw tuna with lemongrass, lime and shallots cured in a light 'nam pla' dressing'. This dish was so delightful I was pretty jealous to have to share it with my fellow diners. It was everything I look for in a starter, every mouthful was enjoyable.
I was completely stuck for choice for mains, torn between a vegan massaman and the new sea bass cooked in banana leaf. Being a serious massaman fan I decided to try something new, especially a winning dish from across the 32 and growing restaurants (there's 8 more planned this year). Winner of their chef competition, Tee from the Bury St Edmunds branch used the banana leaf to beautifully steam and infuse the sea bass with deep flavours of thai herbs. Served with a tamarind and sweet dip. I also tasted the sunny day sea bass which was also incredibly flavoursome and delicate. I'll have to come back to try the vegan massaman and compared it to the others I've tried locally, if it's anything like the rest of the dishes I imagine the flavour would be superior.
I have to give special mention to the noodles, sides and salads though, if you're like me and get food envy – I recommend ordering a bunch of things to share, proper backstreets of Bangkok style. I had the 'charcoal noodle pad kimao' which was packed with veg and silky black noodles. The Som tam papaya salad was great too. I always order a papaya salad, it's such a fresh palette cleanser with a great balanced bit of heat.
They have a wonderful wine selection working with a local supplier who curates the menu. I was also pretty pleased to hear they do great cocktails – would be great for a birthday meal out.
It was a real pleasure to have such an intimate meal with the team, from the general manager to the head chef who were all so passionate about the dishes, flavours and the story of the business. I loved hearing the family tales, such as where the name came from – an affectionate term for the founding couple's baby son who waved his arms around when happy. I certainly left very full and happy too.
[We were kindly invited to review the new menu, but the views are our own.]
Written by Alexandra Higgs /@foodfoliagebrighton