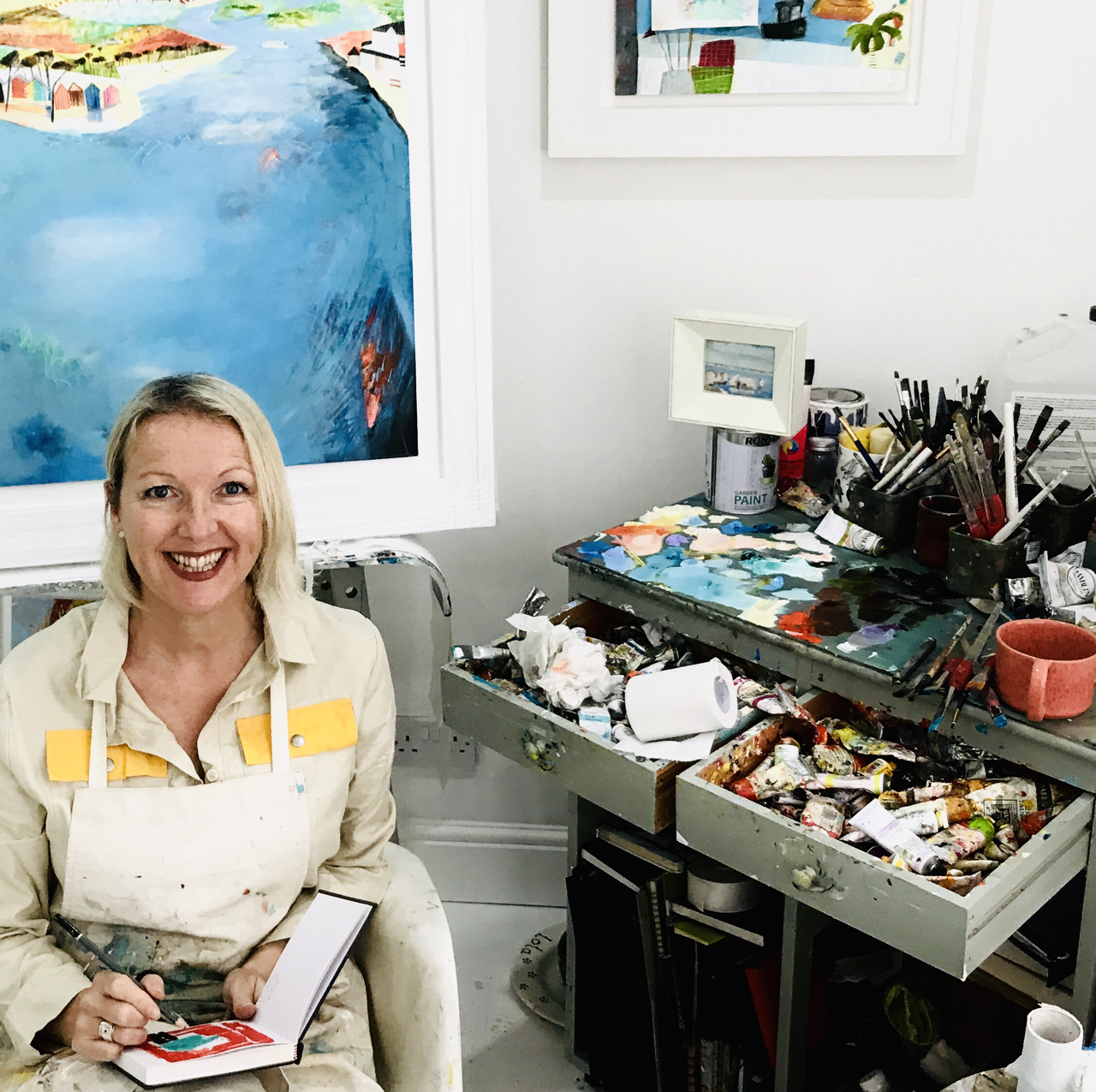 Kicking off 2020's Ten Minute Tuesday series we have an exclusive interview with one of Brighton's biggest art talents, Kathryn Matthews- resident artist at one of our favourite South East art spaces, Two Kats & a Cow Gallery. Also home to John Marshall ( The Cow Man), Katty McMurray and many others.
One of the UK's most prominent coastal painters, Kathryn Matthews' career has amassed a large following of collectors drawn to her exuberant use of colour, vivacious energy and variety of bold mark-making techniques.

Studying at the Deva Art School, Holland before obtaining a BA (Hons) in Visual Art from De Montford University, Leicester (1990-1993) Kathryn worked as an archaeological illustrator in Spain before returning to England to establish herself as a professional artist. Throughout the early days of her career, Kathryn worked as an etcher. Elements of this technique have remained consistent throughout her body of work to date through the combination of ink-black colour blocks and etched illustrative detailing.
The medium of oil on boards provides a more durable alternative to canvas. This durability allows the artist to apply multiple layers and glazes, vigorously stripping and reapplying the paint along with a variety of differing mark-making techniques. Such processes imbue her paintings with striking luminosity and ethereal qualities. Combining observation with an imaginative power, her extensive travels around the world significantly influence her work, transforming landscapes with riots of colour and exaggerated palettes.
Kathryn Matthews has exhibited widely throughout the UK, New York, Dubai and Paris.
At what point did you know you wanted to be an artist/ was there a previous career choice/ a pivotal moment that you knew you wanted to go into painting?
I've always been happiest when I am creating something, whether it be painting, printing, woodwork… as a child, I would spend hours copying nature pictures from encyclopaedias. It was always my dream to create for a living. If I had to change careers now I d like to try out treehouse design!
How much influence have your previous travels played in your current style?
Growing up I was an obsessive adventurer. My best friend and I would spend hours looking at maps. The moment we walked out of our last exam aged 16, we grabbed our rucksacks and were off. To be able to combine a love of exploring with my passion for painting is a dream come true.
My paintings are a result of location sketches and memory which I like to think brings a new perspective.
What can we expect to see from you in 2020?
I was lucky enough to spend time sketching in Costa Rica this year. Palm trees are a recurring motif in my work so I'll be looking forward to returning to a tropical palette of hot Caribbean colours, turquoise seas and maybe a hummingbird or two.
Is there any styles or techniques you haven't tried yet in your work but would like to explore in the future?
I would like to experiment more with black. Put vibrant colours next to a pitch black and it makes them sing!
Could you explain the partnership with Artizan Editions to us more?
I was introduced to Artizan editions in 1997 when an old friend of mine started working there as a screen printer and he asked me to submit some ideas.
It's such an intense procedure. So much work is involved in a handmade screenprint. Every single colour is hand mixed, hand-printed. It's definitely a voyage of discovery. The end print can be somewhat of a surprise!
Name 3 of your favourite places in Brighton to find inspiration for your works.
Well, the seafront is where the magic happens for me. I was born in Nottingham so now I'm on the coast I want to be as close to the sea as possible. Sussex Square is always a dream to paint too -such majesty.
If you could live anywhere else in the world where else would you live?
Well, I think it would have to be somewhere French or Spanish speaking as I am familiar with these and it makes such a huge difference to know the local language.
Exclusive competition!
To be in with a chance of winning yourself a Kathryn Matthews unframed limited edition print, 'Benitses' worth £550, please head over to our Facebook to enter. Entries close 14th Feb 2020, T & C's apply.
Find out more about the Two Kats Gallery's other resident artists, John & Katty here, or visit the Two Kats website to find out more > www.twokatsandacow.co.uk