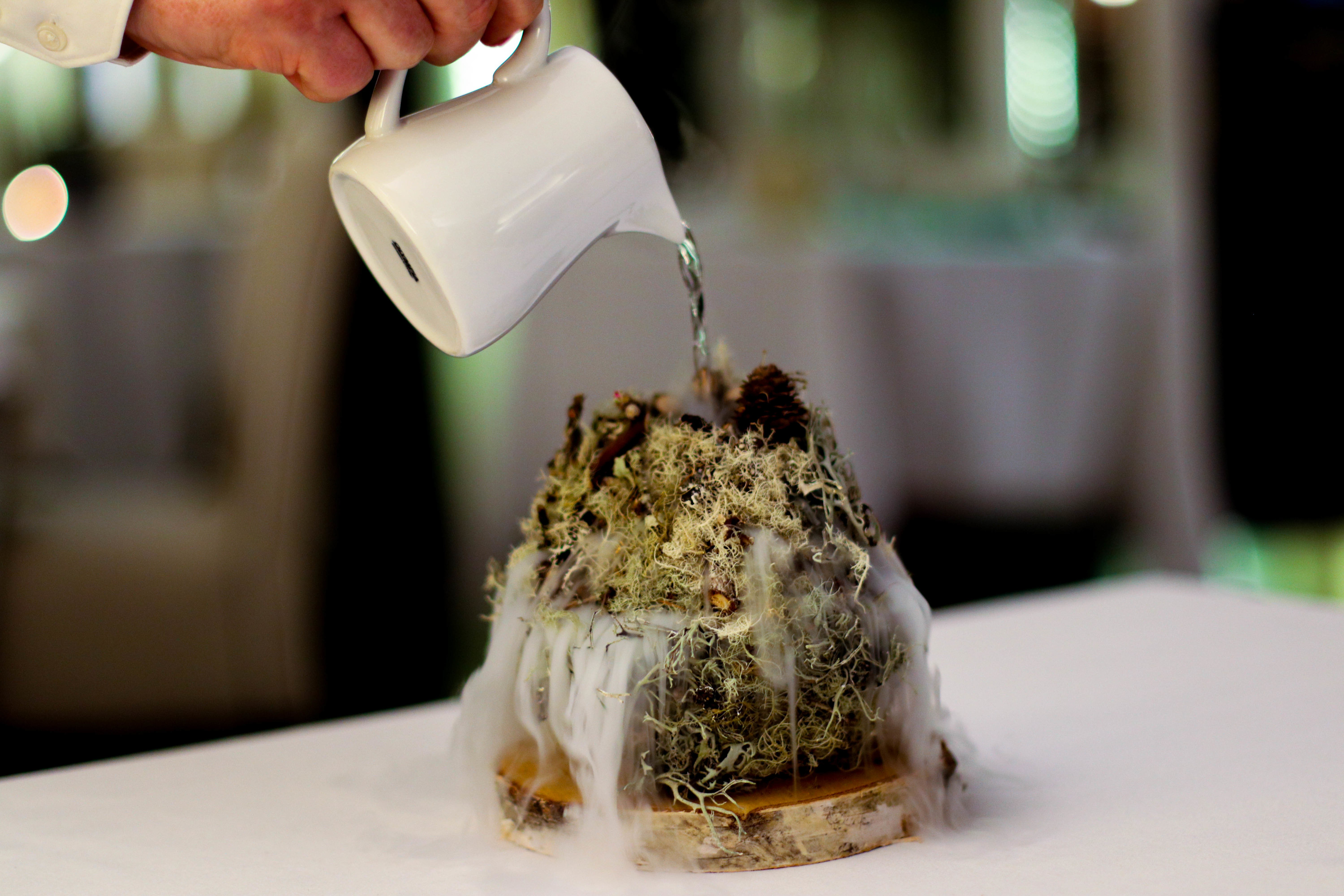 When I was approached to go and try out an "honesty menu" at Thackeray's, I'll be honest- it surprised me. Such a well-established restaurant, letting their customers decide what their food is worth? Bold. For those of you who haven't come across an honesty menu, the concept is that guests pay what they feel a meal was worth.
Needless to say, I jumped at the opportunity to go and try out this interesting and original concept.
To give you a brief overview, Thackeray's describe themselves as offering "a relaxed form of fine dining free from pretension, applying classic European culinary philosophies to modern dishes." The restaurant is based in the stunning Royal Tunbridge Wells in Kent, a stone's throw from the town centre and the kitchen is headed up by Head Chef Patrick Hill.
Upon arrival, my guest and I were made completely at ease by restaurant manager Gary Beach. He took the lead in seating us and made sure we were suitably refreshed whilst we got settled with Bulldog Gin & Tonics, very swiftly I might add. We were off to a good start!
We open the 'Harry Potter' style wax stamped parchment to reveal our six-course menu in all its glory. It described the thought process behind the Honesty Menu being an "opportunity to allow all customers to experience the exciting produce and innovative cooking from our talented kitchen team." They invite the guests to pay "what you feel the experience means to you" and to complete a feedback card on the table and hand to your server when asking for the bill.
NB: Service is discretionary.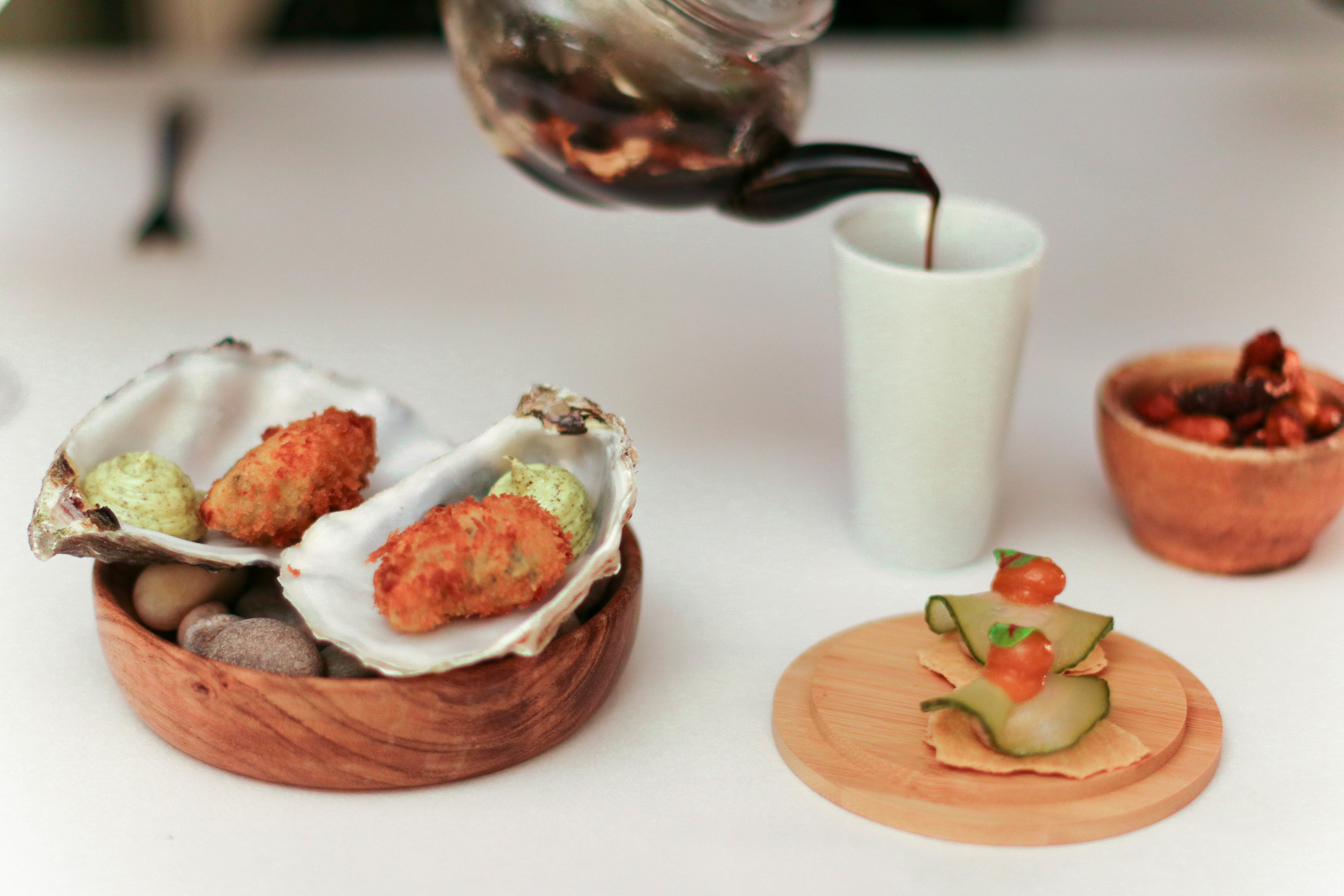 To kick off the evening we are quickly greeted by our first course, served and introduced to the table by Patrick himself. "Cosy By The Fire" (pictured above) consisted of Spiced Nuts, 'Pate on Toast' Mushroom & Smoked Onion Tea, Crispy Oyster & Seaweed.
The standout of this course had to be for me the Mushroom & Smoked onion tea which had an incredible depth and smokiness to it. I still prefer my oysters raw but you can't deny that the accompanying seaweed was paired beautifully in this combination.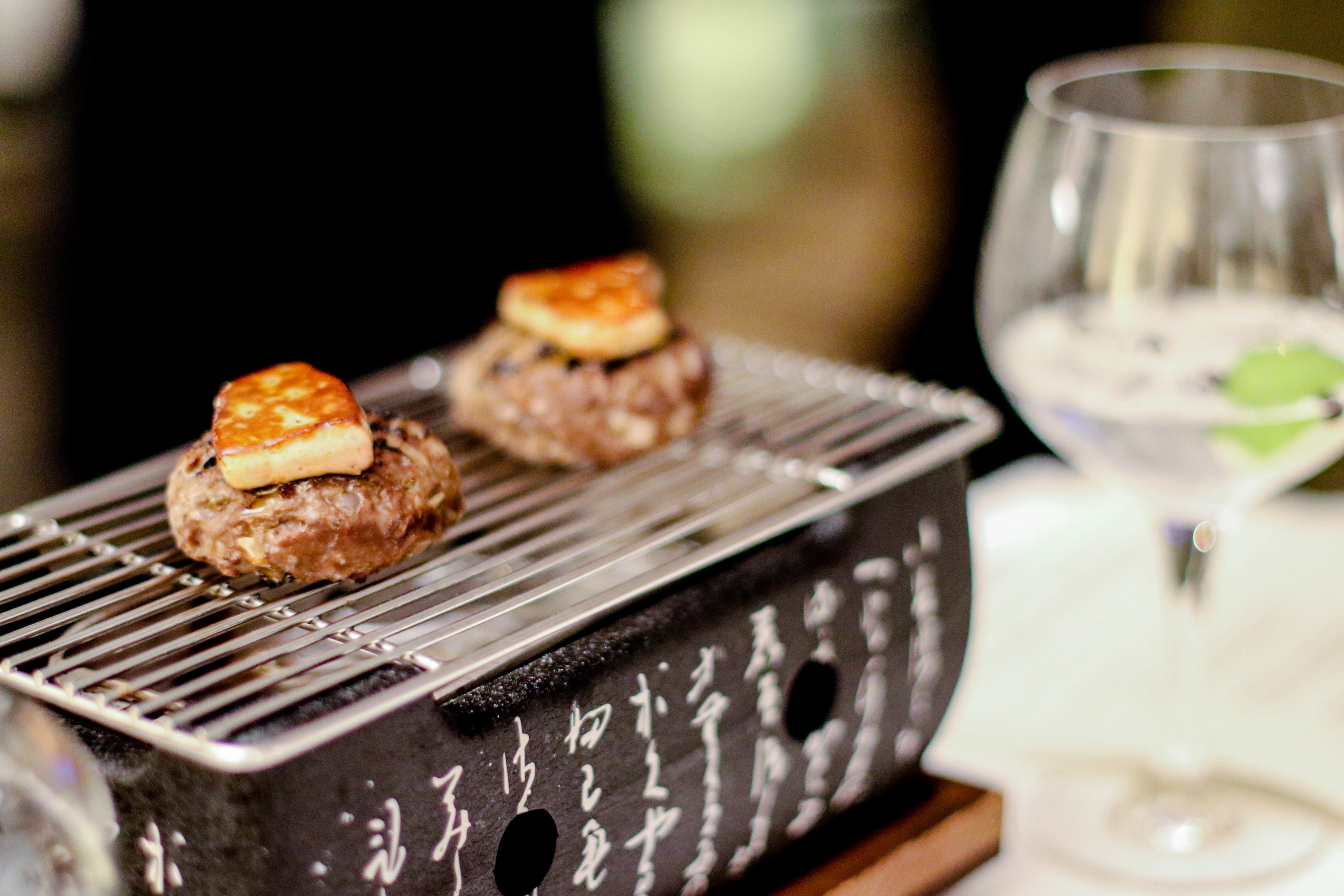 "Burger Me!" came next, and in an impressive way. Aged Kentish Venison, Foie Gras, Milk Bun, Worcestershire Mayonnaise & Pickled Red Cabbage paired with a beautifully light and fruity IPA from "Good Things Brewery" down the road in nearby Eridge. An attentive member of the team explained to me how Good Things Brewery are a fully sustainable brewery, what a great concept. Juicy, moist and packed full of flavour. Everything a burger should be.
No decent tasting menu would be complete without a fish course in my eyes, so my eyes lit up when I saw we would be eating "Bass Line" for the third course. Pan fried caught stone bass, pack choi, lemongrass & coconut. Paired beautifully with a 2014 number that I cannot for the life of me pronouce from the Loire Valley ("Saumur-Champigny I'lle Quatre Sous, Cahateau Yvonne). Crispy, fresh and light enough to be paired with this heavier variety of white fish and the pak choi/ radish combo made the perfect cut-through accompaniment.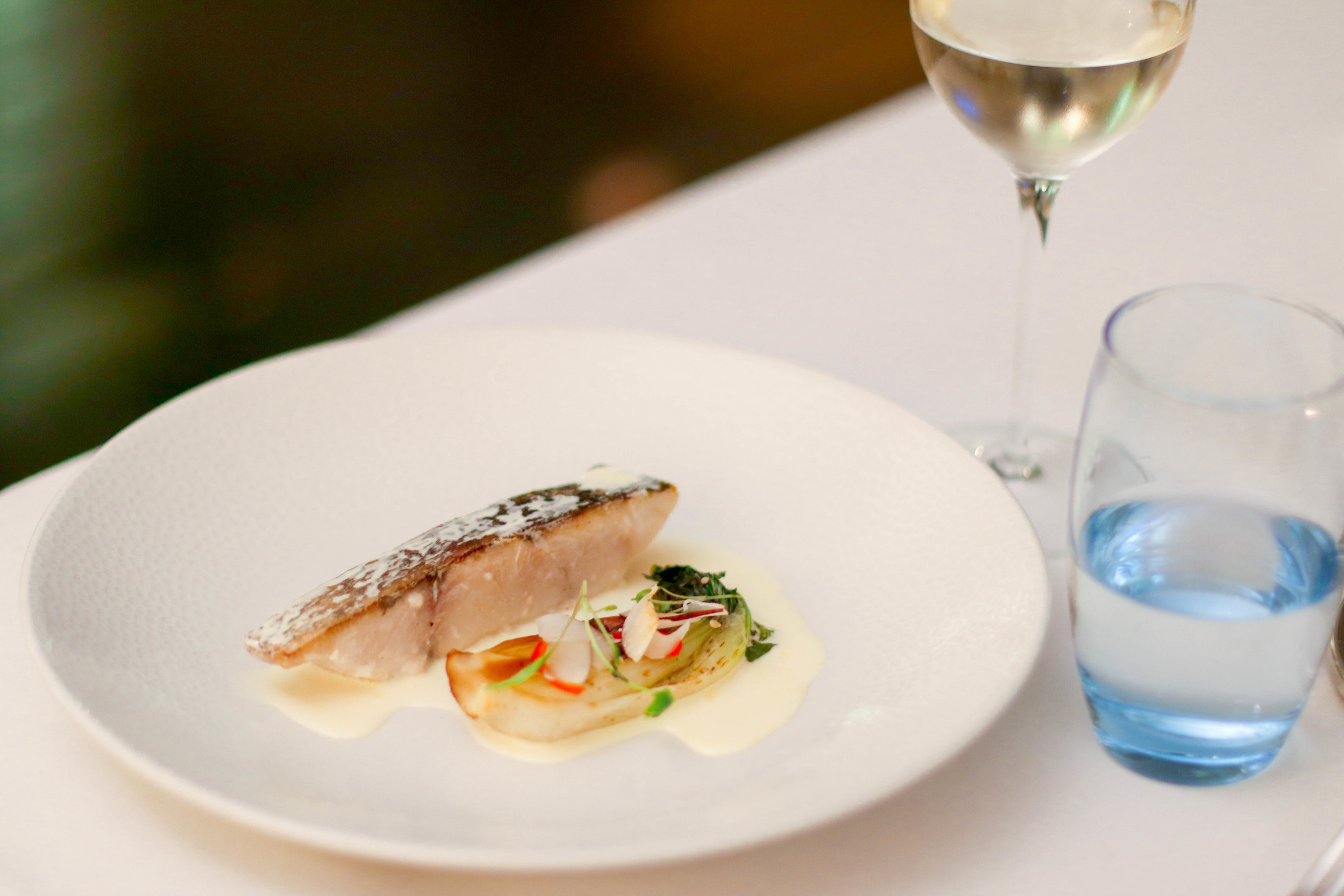 It's not often that one is indulged with a scotch egg on a tasting menu but you have to take your hats off to Patrick for this one. To accompany the "Chicken of the forest" dish was probably the most succulent and rich depth of flavour in a scotch egg I have ever tasted. the colour of the yolk tells you all you need to know about it's welfare standards and the crumb was the perfect combination of crisp and crunch.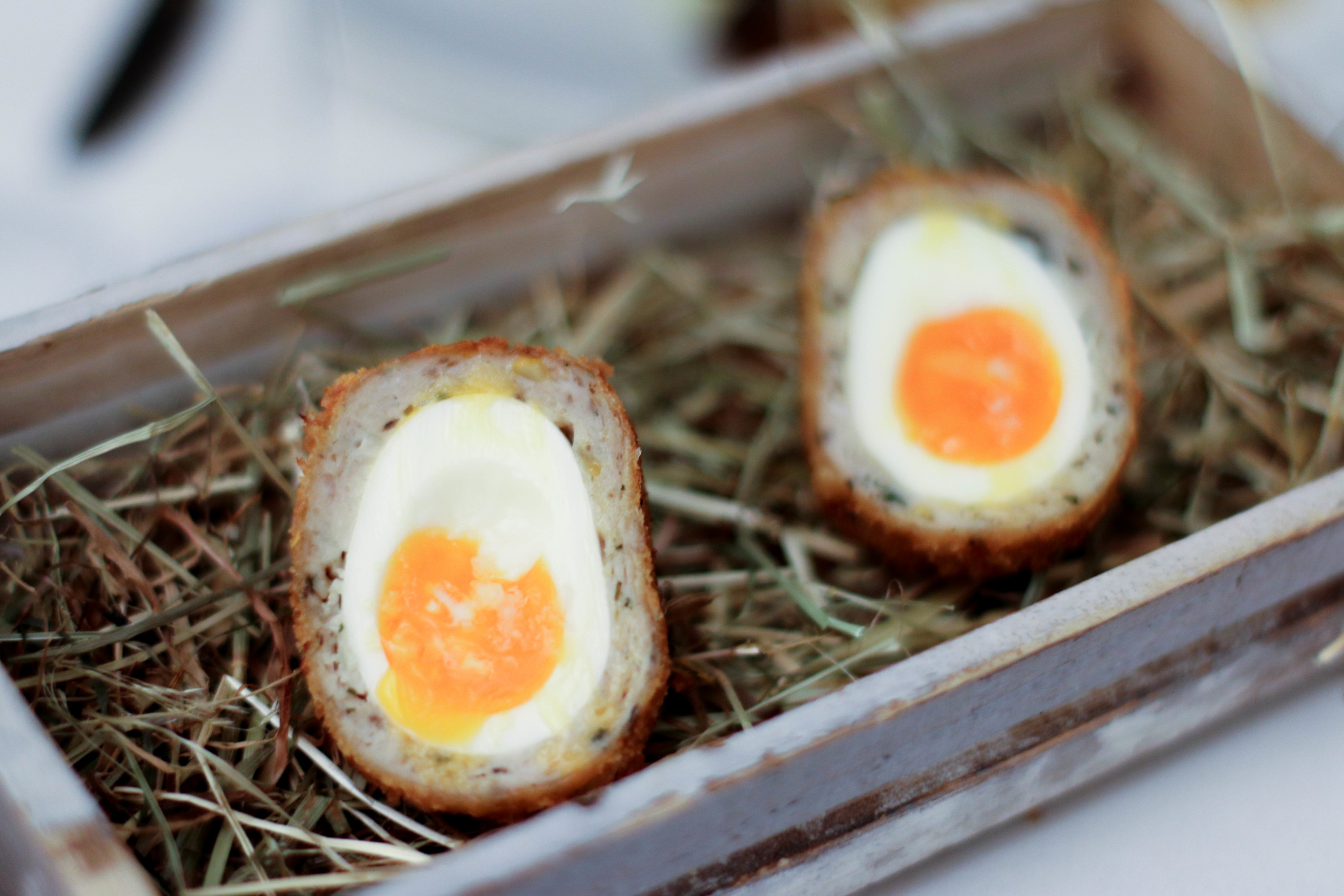 Our dish was married with a show-stopping "smells of the forest" table addition (pictured top) which filled the table with a gorgeous scent and set the scene for what was to come whilst adding an element of theatre to the evening.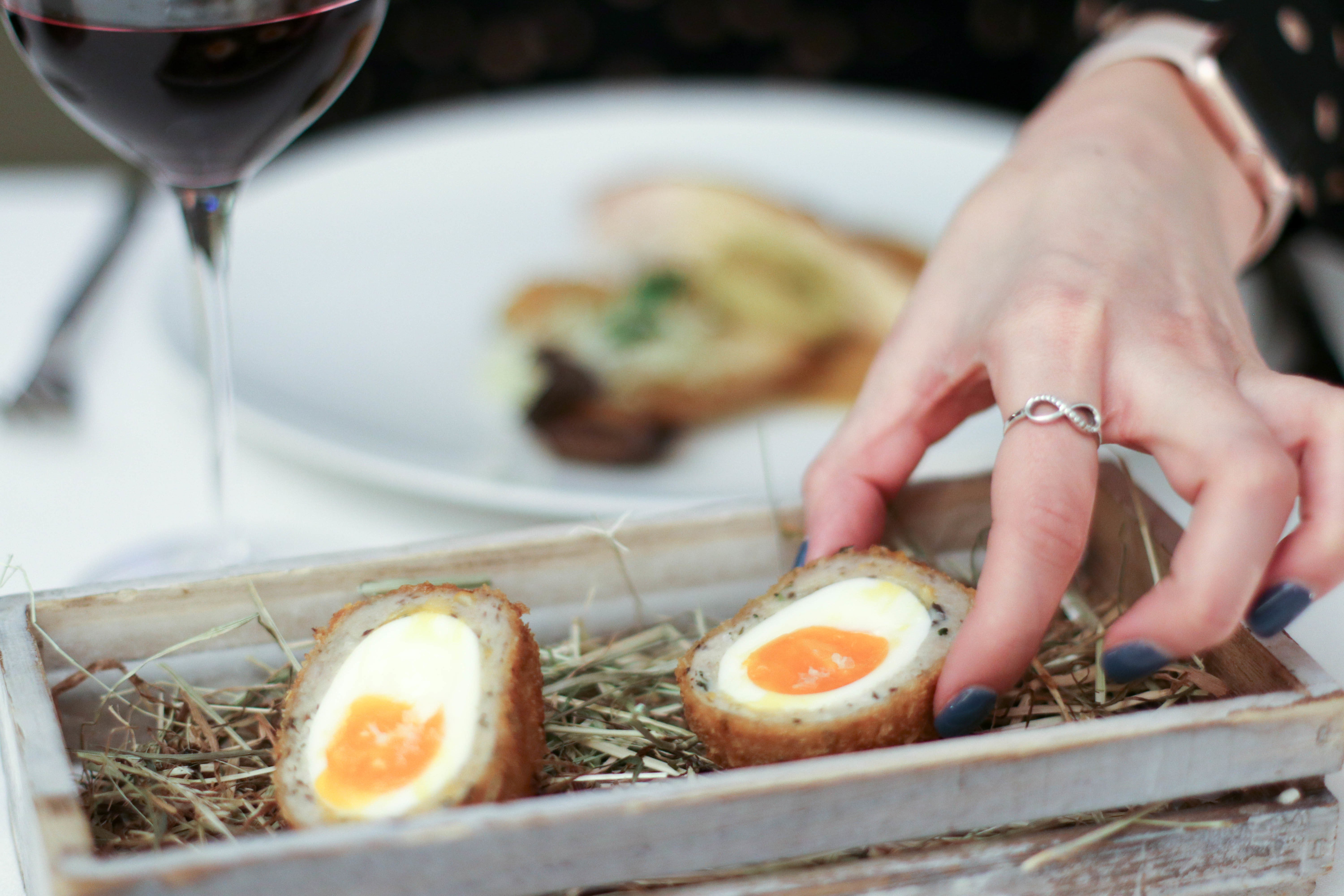 The corn-fed chicken dish was paired with King oyster mushroom, fermented garlic (yum) & black truffle- my guilty pleasure. Patrick explained to me that in this dish they really wanted to emphasise sustainable meat-eating by using every part of the animal throughout the dish where possible. The scotch egg(pictured above) was actually made with the meat from the leg of the chicken. The whole dish was a taste explosion but I can't deny that the fermented garlic sauce really stole the show.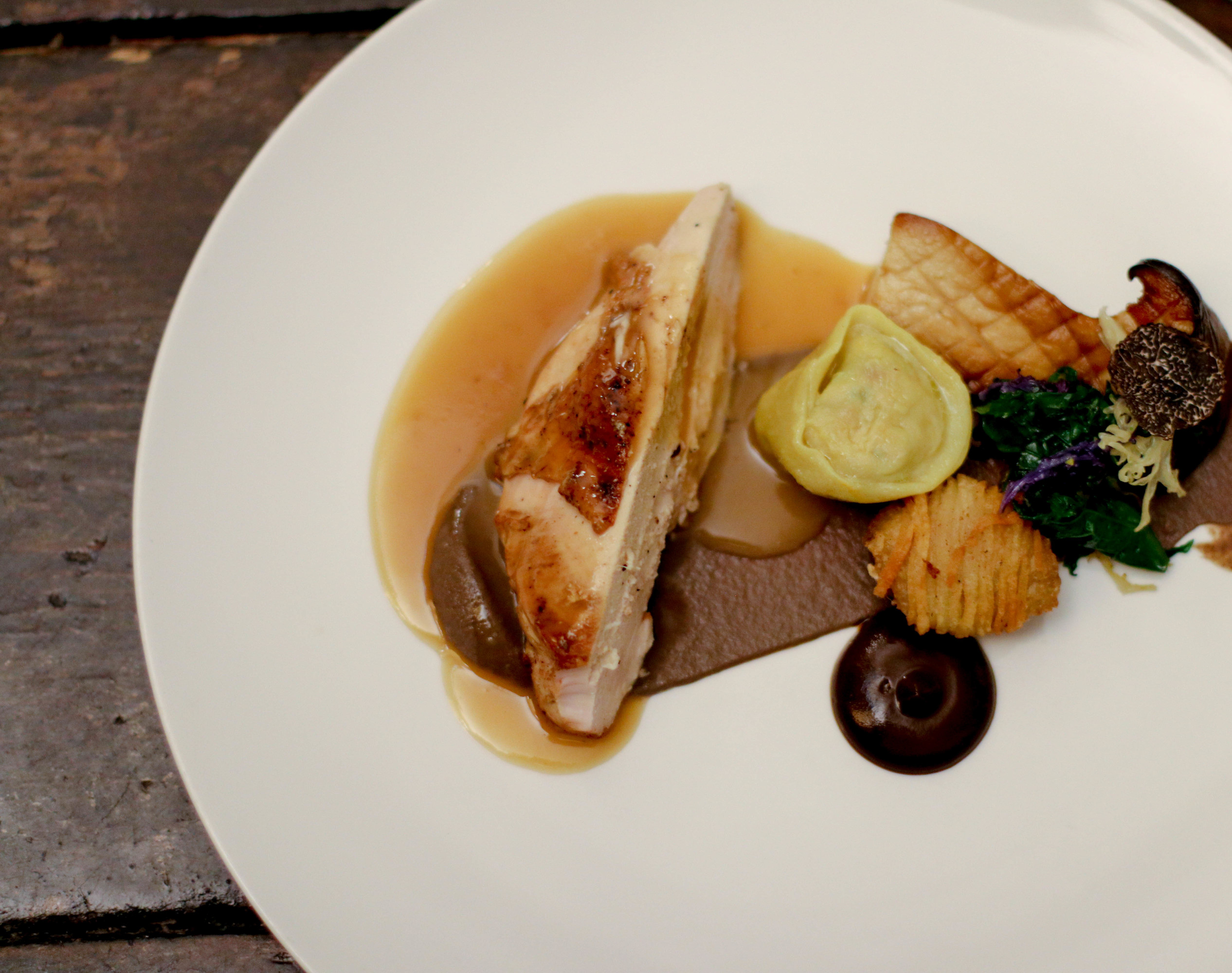 The cheese dish was pretty unforgiving in it's portion size but sublime in the taste department. Tunworth Cheese, Rosemary Cob Loaf & Pickles paired with Mulled farmhouse cider from Big Nose & Beardy in Framfield- served in a hip flask. It took me back to some of my favourite mountain-side meals on the slopes with it's sheer indulgence and novelty factor! The cider accompaniment was extremely well chosen and provided the needed sweet kick to cut through the heaviness of the cheese.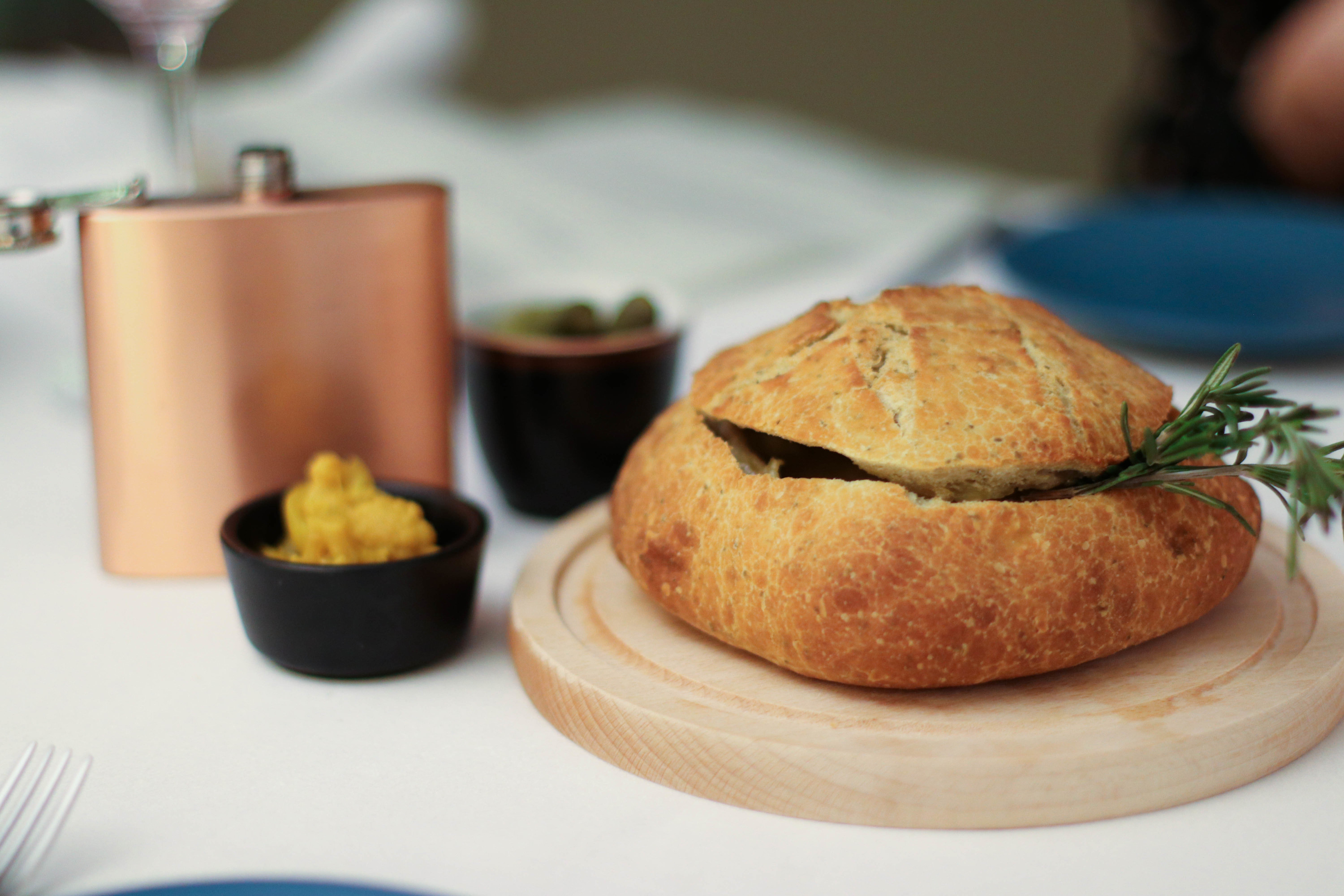 "Passionate About Chocolate". A dark chocolate marquise served with passion fruit jelly, white chocolate cemeux, cocoa nib brownie and a mango and passion fruit sorbet. Chocolate and passionfruit is one of my all-time favourite combinations in a sweet course so this particularly tickled my fancy. My only regret is that I was really too full to enjoy it in all it's glory. I tasted and thoroughly enjoyed what I could manage but as any decent person would do, I prioritised it's accompanying wine. A very rare find according to the most attentive server in the whole of East Sussex, Gary Beach.
Gary explains to us that the 2015″Vidal Ice Wine" sourced from China has aromas of passion fruit, lychee and honey. The palate's lusciousness is balanced by an uber clean citrus edge, and the freshness of flavour carries through to a beautifully cleansing finish. In my humble opinion this is the Rolls Royce of dessert wines. So light, crisp & refreshing. Such a great paradox from the traditional, sweet heavy & often syrupy wines that accompany our final courses.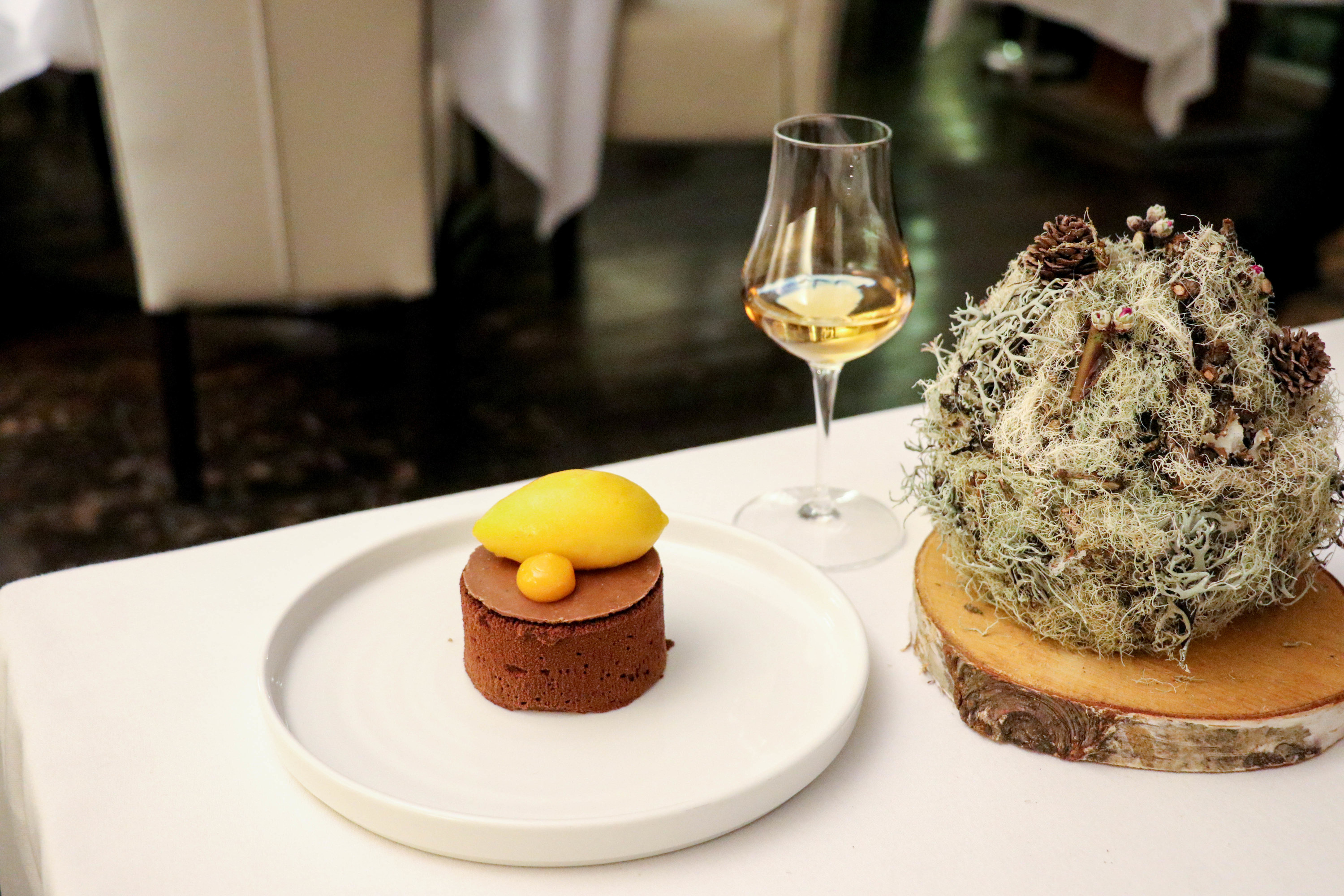 In case there was a one per cent chance of you going home hungry, petit fours followed with the coffee and much like the rest of Thackeray's Honesty Menu- it was first class.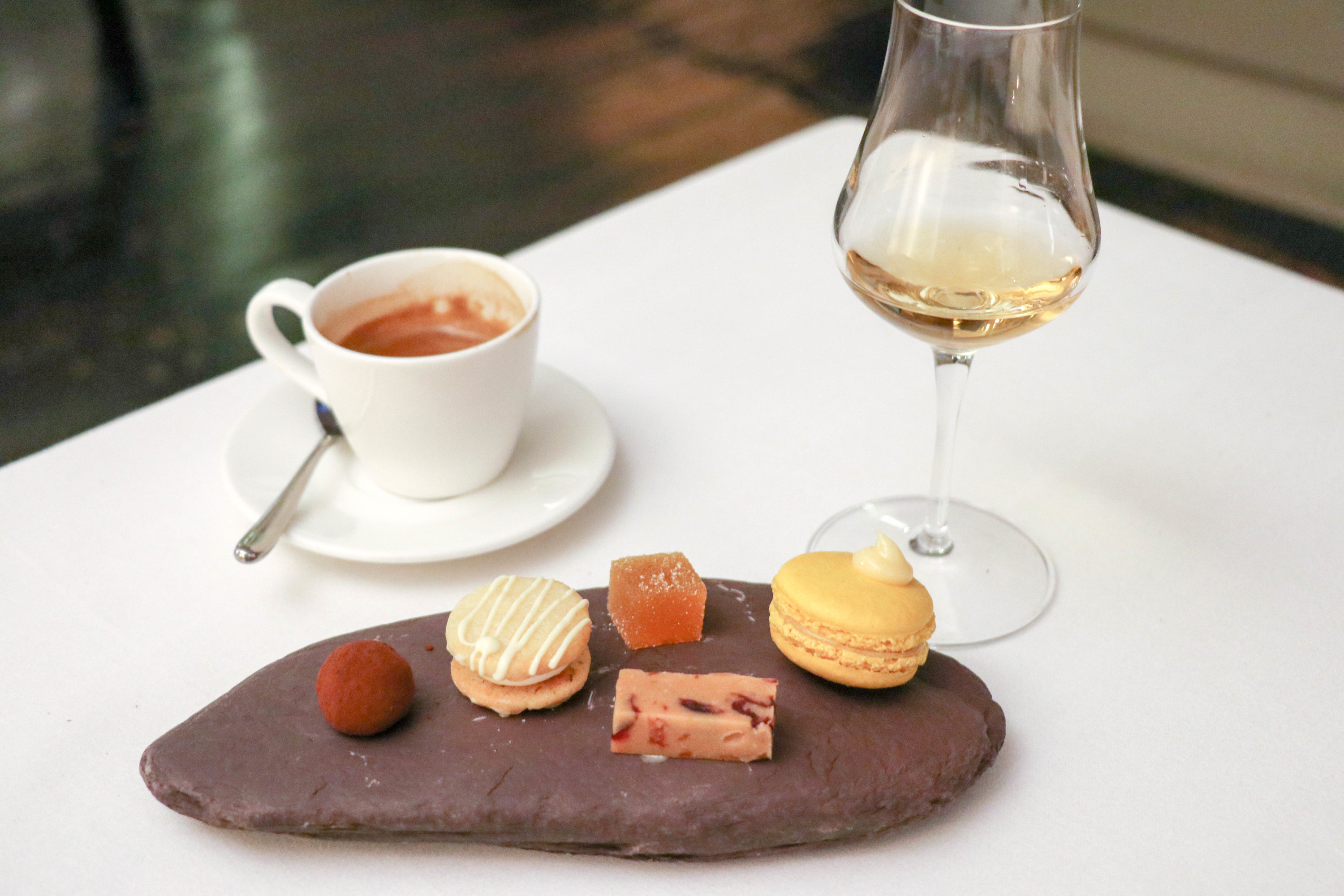 The 'Honesty Menu' at Thackerays is a brave juxtaposition to their usual offering and it's commendable that a restaurant with such a reputation would undertake such a risky move. It's clear that they are confident in their quality and offering and this seems to me to have paid off for them. Even an out and out cynic would have to admit that this menu is worth a decent amount of anyone's money. When I asked chef Patrick Hill what he would compare the Honesty menu to in terms of what they currently offer and pricing he said, "We don't do anything quite like this at Thackeray's so there is no typical price – hence its name "Honesty Menu". We simply ask people to pay what the meal is worth to them. In essence, it means it is worth different amounts to different people."
The Honesty Menu is available to diners until the end of March and you can find out more information or book a table here.