As you may know we work very closely with the fabulous Two Kats & a Cow gallery, based in Brighton. This year we thought it would be a fabulous idea to bring you Two Kats & A Cow Christmas Gift guide, to inspire you for those last minute special gifts.
'A Tale of Two Piers' Kathryn Matthews oil on board with 23 carat gold leaf £450
'Regency 1' Kathryn Matthews oil on board £395 'Thinking of Howard Hodgkin' Ltd edition hand finished print £550 unframed. 'Winter Sky Over Hove' Ltd edition hand-finished print £550 unframed 
Kathryn Matthews studied Visual Art at the De Montfort University. She has exhibited widely throughout the UK and internationally with shows in New York, Dubai and Paris. The artist is best known for her fresh perspectives of British coastal scenes and her vibrant colour palette inspired by her extensive travels. The stripping and re-application of layers and glazes and bold textural mark making gives the work a luminous and often ethereal quality.
Charlotte Miller – 'Lola' £110
Charlotte Miller is a Bournemouth based ceramicist who creates handmade sculptures inspired by the peculiarities of the British. Her anthropomorphic, whimsical budgie sculptures are both endearing and nostalgic with a nod to the eccentric and kitsch. Lola is taken from the 'showgirl collection' currently available at at the Two Kats and a CowGallery or online.
Helaina Sharpley – 'Spoons' £160 and 'Blooming Four Cups & Hooks' £210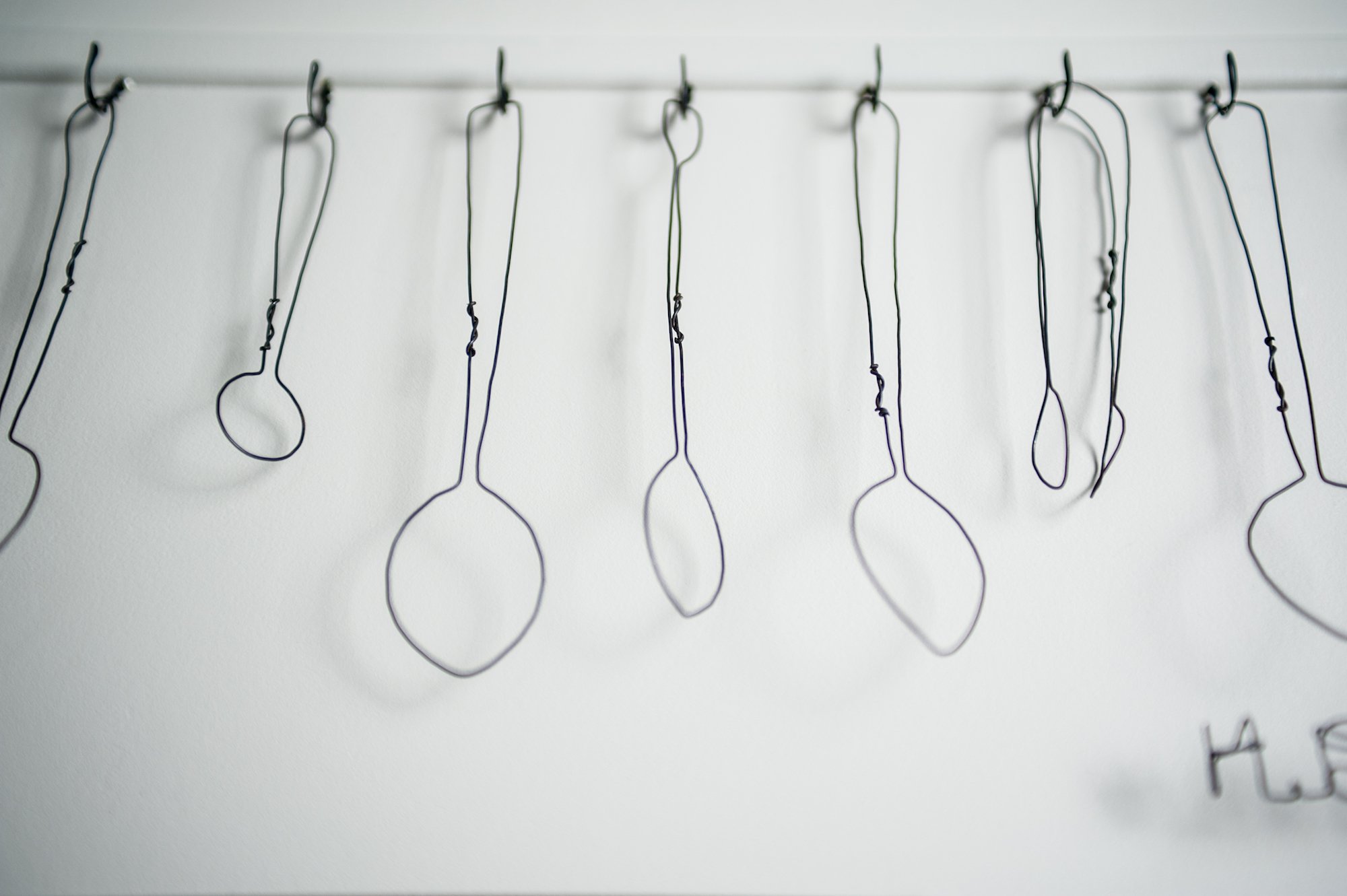 Helaina Sharpley is a wirework artist and designer from West Yorkshire specialising in wall art inspired by tea drinking and architecture from the Victorian and Edwardian eras. The sets are surprisingly illusive and project the most mesmerising shadow play throughout the day.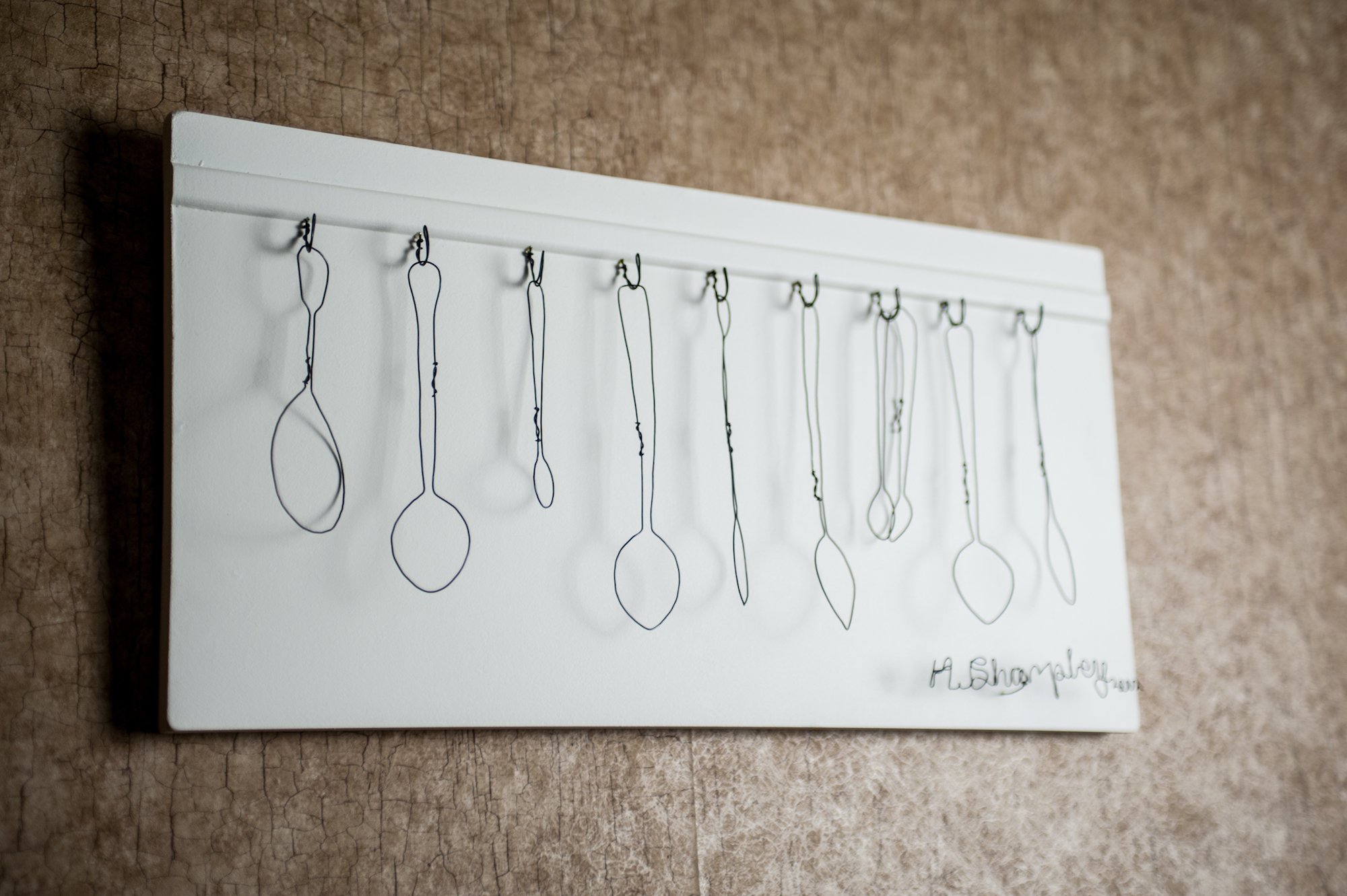 Henrik Simonsen – 'Pine' Ltd edition silk-screen print £750 unframed
Simonsen's work has been exhibited in group and solo shows worldwide to huge acclaim. Following a Scandinavian tradition of art, literature and design inspired by the natural world, Henrik Simonsen employs the inexhaustible richness of nature. 'Pine' is a collaboration between the artist and leading contemporary printmakers Artizan Editions.
Jazmin Velasco – 'Death of Munro' unique porcelain sculpture £230
The fate of an English soldier, brutally mauled by a tiger in India, 1791 soon became the iconic image for Indian independence, immortalised in this exquisite and darkly humorous work by ceramicist and Jazmin Velasco. View the full Regency/Georgian inspired collection of theatrical figurines at the Two Kats and a Cow Gallery or online.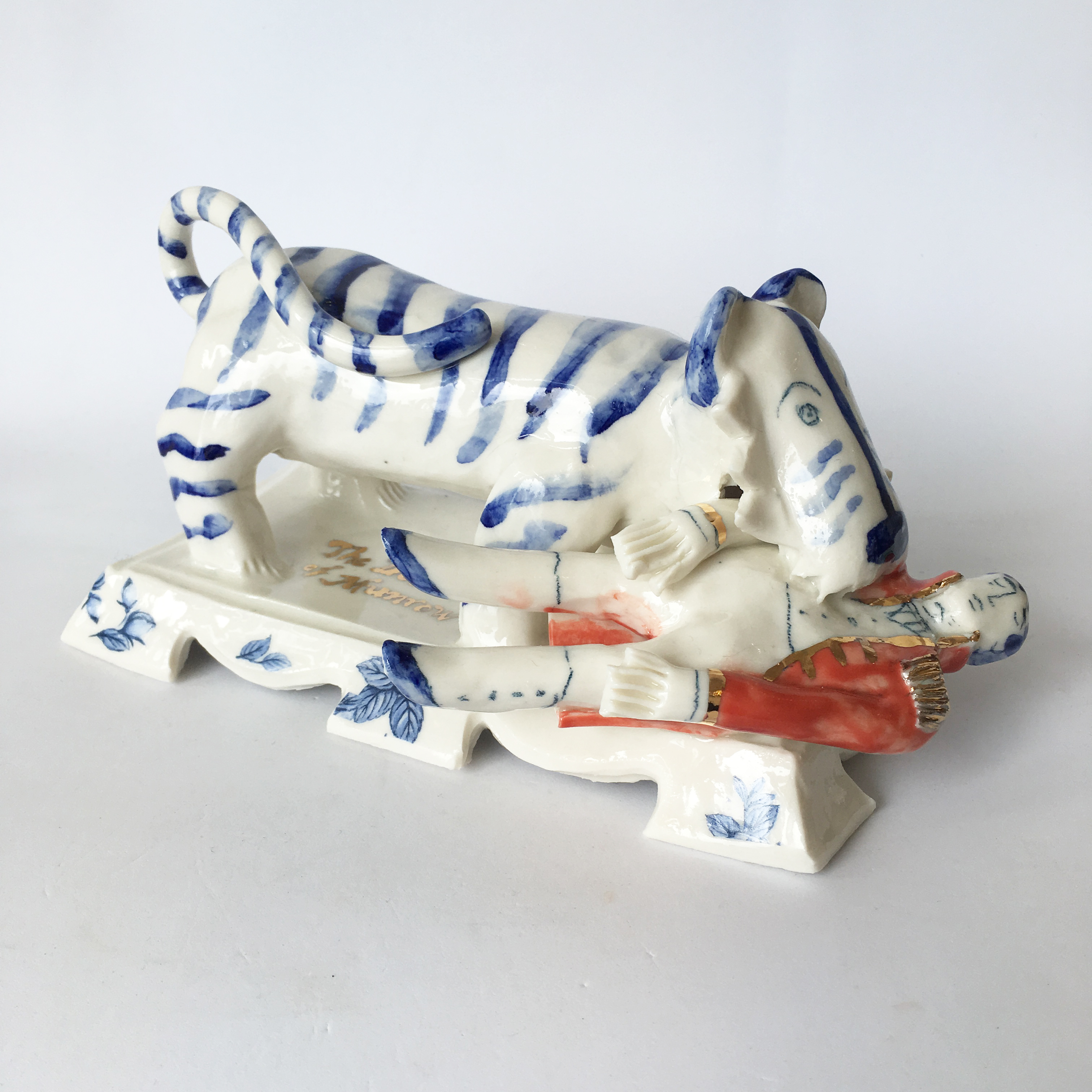 John Marshall – 'Marzipan' Ltd edition print £645 unframed  and Ricochet Ltd edition print £645 unframed
John achieved overnight success in the 90's for his bold paintings of cows; a subject which has remained his single focus ever since and earned him international recognition as 'the cow man'. Light is often used to accentuate composition and backgrounds are ever-changing. His fresh approach to each work has established a growing collection of powerful work. John has exhibited widely throughout the UK and internationally. Both prints are named after extraordinary people throughout history. Marc-Antoine Ricochet was a French marksman noted for his ability to hit a target indirectly. He is thought to have shot Lord Nelson and Marie Therese de Marzipan was the mistress of Mwawalele Akimbo and is known to have seduced Mozart. Her passion for sugar and crushed almonds made her very 'stout'. She later became the mistress of the Prince Regent. To find out more about John, read our interview here.
Katty – 'Sardines and Lemon' oil on linen £395 and 'Flowers and Cup' oil on linen £395 'Brighton Pavillion' conte crayon line drawing, framed £650.
Katty McMurray studied at the Chelsea School of Art, exhibiting widely throughout the UK and the London art fairs. Her work draws on her extensive travels, with a more recent focus on the British coast. Clean lines, solid brightly coloured shapes and a meticulously balanced palette are a hallmark of Katty's serene and restorative oil on linens and line drawings. To find out more about Katty read our interview here.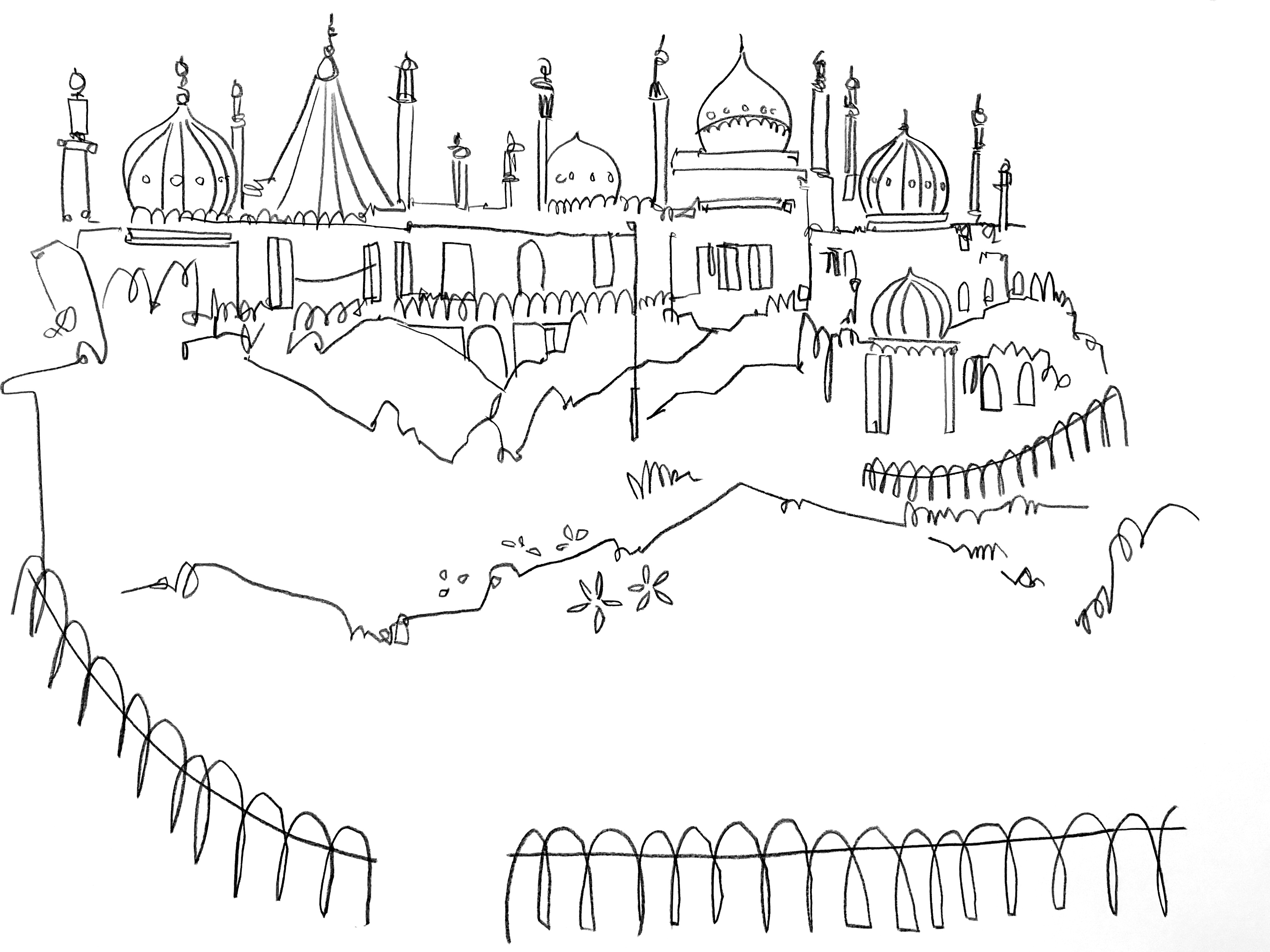 Kinska – 'Swimmer' £35
Argentinian born ceramicist and illustrator Kinska has just celebrated her first major London solo show. These small figurines are available exclusively at Two Kats and a Cow.
Marion – 'Love birds' £95  
Hand-made life-size love birds by Marion Brandis. Made from high-fired red earthenware with tin glaze and enamel decoration. Standing on copper wire feet. Marion Brandis is a German ceramicist who is lives and works in her home studio based in Lewes overlooking the South Downs.
Nikki Ward – 'Mermaid' £190
'Mermaid' is a collaged butterfly sculpture framed in a traditional wooden taxidermy box. Nikki Ward explores transformation, repurposing, metamorphosis and preservation. Using once-loved and valued treasures destined to further decline; books that are damaged or foxed, outgrown toys and forgotten treasures.

Penny Little – ' Black Porcelain and gold lustre nest of 4 minature bowls' £105
A set of four minature black porcelain and gold bowls which stack inside each other or can be enjoyed individually. Penny Little hand-forms black and white porcelain vessels, bowls and vases filling them with gold and platinum lustre, adding light, depth and reflection. Her pieces are tactile, sculptural and celebratory.
Rowena Brown – 'Ditchling Set' £450
A set of four houses, sculpted by hand from black clay by Rowena Brown. Coloured slip is painted onto each house individually, before the first firing. A second glaze is then added which cracks during the firing process. Lastly, ink is rubbed into the glazed surface, to demarcate the cracks. Handmade in London but inspired by croft houses on the remote islands of the Scottish Hebrides. Studying at Central Saint Martins, the artist has exhibited in California, London and throughout the UK.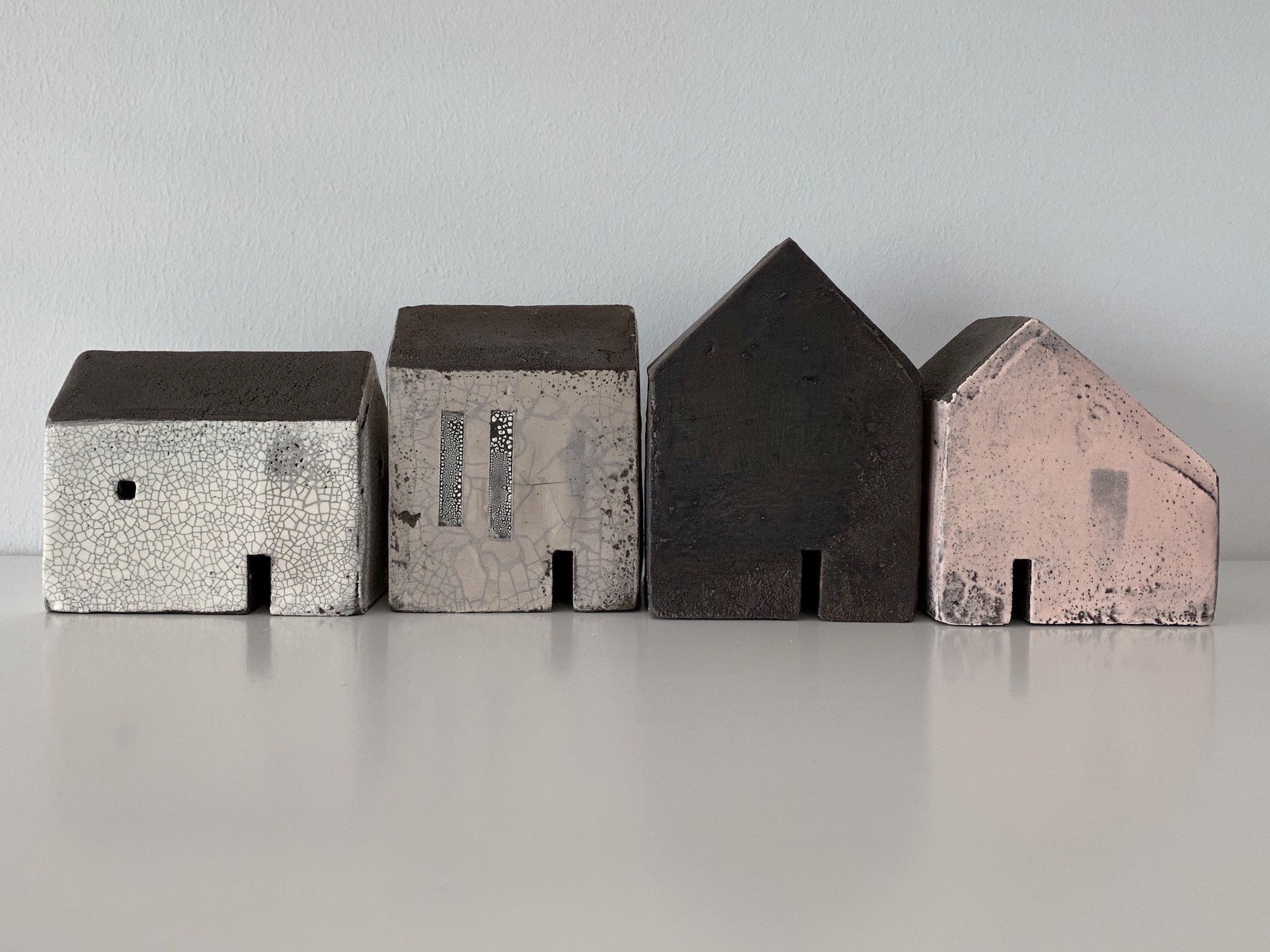 All of these pieces are available from Two Kats & A Cow website, or in the gallery. For more information click here.