Looking for a full 360 experience when venturing on your fitness pursuit? I'm talking spas, clubrooms, and access to a full range of classes. Here's my curated guide to the best fitness club experiences the city has to offer. 
---
Bodyism is an institution set in the delightful Westbourne Grove – famously colonised by antique dealers and upmarket boutiques where it's not unheard of to bump into a famous face or two (Elle McPherson and Rosie Huntingdon-Whitely have trained here to name but a few). But it is more than just a health club with an accolade of celebrity clients to shout about. Bodyism is a methodology, with the club being the guardian to guide you through the four core pillars to wellness (mindset, nutrition, movement, and sleep) through using their signature framework of services to secure optimal wellness. This is a place where you can embrace the adrenaline highs from a tough workout, all while bypassing any extreme methods and maintaining some baseline calm. 
I was lucky enough to have a 1-1 with performance specialist, Deanna, who manages the club as well as teaching small group classes. Following a Functional Movement Screening, Deanna was able to unpick weaknesses I've neglected for years in my high-intensity training in just 60 minutes. While I was familiar with a lot of the movements, Deanna was meticulous in correcting my form and there's a good reason for this. At Bodyism, don't expect to be given the stupendous plank variations or kettlebell complexes you may see from the Instagram crowd (whose main motive is to catch your attention). Instead you'll be taught to refine all the foundational movements to ensure you see optimal results and promote physical longevity. This is true even for their small-group classes (HIIT, pilates, dance, yoga – you name it, Bodyism has it!). Whichever workout you choose, I highly recommend recharging and watching the world go by in the Bodyism cafe afterwards, trying one of the seasonal buddha bowls, or a superfood smoothie if you're on the go. You can even take home a slice of Bodyism with the plant-based supplements they use in recipes. It makes treating yourself so effortless!
Who's it for?
Those who want an extensive, fully bespoke fitness experience
Where is it?
Notting Hill
How Much?
Memberships start at £130 per month
Facilities; f
ull shower facilities with GHD hair appliances and luxury wash products, a c
afe with an extensive healthy menu, e
asy to use coded lockers, a
ward-winning treatments in skincare, osteotherapy and nutritional therapy and the m
embership card has perks such as discounts to partnering hotels and seasonal offers.
---
Famously known as Anthony Joshua's passion project, BXR is arguably the most luxe fight club in Britain. With boxing at its core, BXR have pulled together a team of elite coaches, medical staff and state of the art equipment to shape you into optimal health and nurture a champion mindset. Don't fancy stuffing your hands into a pair of wraps and gloves? Never fear since the services here span from sweat classes such as combat, circuits, S&C, to clinical treatments such as physiotherapy and soft-tissue therapy – if you train like a champion then you should receive treatment like one too! 
The space itself is split across two floors in chic quarters of Marylebone – a members-only ground floor gym with distinct training zones, and a lower ground floor open to all including pay-to-train class attendees. Submerge yourself in the stunning underground space complete with elegant changing facilities, a steam, sauna and ice basin, BXR Rehabilitation Clinic and studios dedicated to each of the Sweat by BXR training formats. I found myself wide-eyed and in awe of the reception rooms with their walls adorned in artefacts from AJ's career. I also observed that this is clearly a space where you can train really hard, then relax or do some work from the plush club lounge which has the aesthetic of a swanky underground bar – though this is better suited to the green juice crowd thanks to the resident Joe & The Juice. BXR hits the mark in bringing hard-line fitness with uncompromised coaching, all without compromising on luxury.
Who's it for?
Both those wanting to learn the technical elements of boxing, and those who just want to get a sweat on amongst a luxury space
Where is it?
Marylebone, Sweat by BXR also available in Canary Wharf
How much?
Memberships starting from £210 per month
Facilities; members only open gym floor, designated class studios, steam, sauna and ice basin, full shower facilities with GHD hair appliances and luxury wash products, access to the 'BXR Rehabilitation Clinic', a cafe with an extensive healthy menu and easy to use coded lockers.
---
Volonté offers what many other studios can't – small group training with feminine strength, power and energy at its core, allowing you to train with others while receiving plenty of personalised coaching. Built upon the ethos that we should enjoy an active life of abundance, the studio is intrinsically liked with the café which offers a tasty and all-inclusive food experience. Sip on your post-workout smoothie and barista-crafted coffee, or even dive into a nourishing "Balance Bowl".
Who's it for?
Those looking for a club with a warm, residential feel to it.
Where is it?
South Kensington
How much is it?
Class credits available for various packages, but we recommend the 10 class pass for £200
Facilities:
Changing rooms, smoothie bar and cafe with an extensive, healthy menu.
---
Possibly the chicest health club around with its clean-cut corners and design-led, fashionable aesthetic. There's even a designated art gallery and retail space, making it all the more inspiring to spend time here! But Blok isn't cool for the sake of it. Classes are offered across 10 different disciplines and built around the methodology of Cross-Discipline Training, meaning you train across the categories of strength, endurance, skill, flexibility and reset. So whether you're flexing your toes doing ballet squats or busting your butt on burpees, you're always training with purpose. Why does Blok take this approach? Because cross-training promotes adaptation (i.e makes you fitter), prevents boredom, and decreases the risk of injury, all in all acting as a blueprint for a sustainable training programme.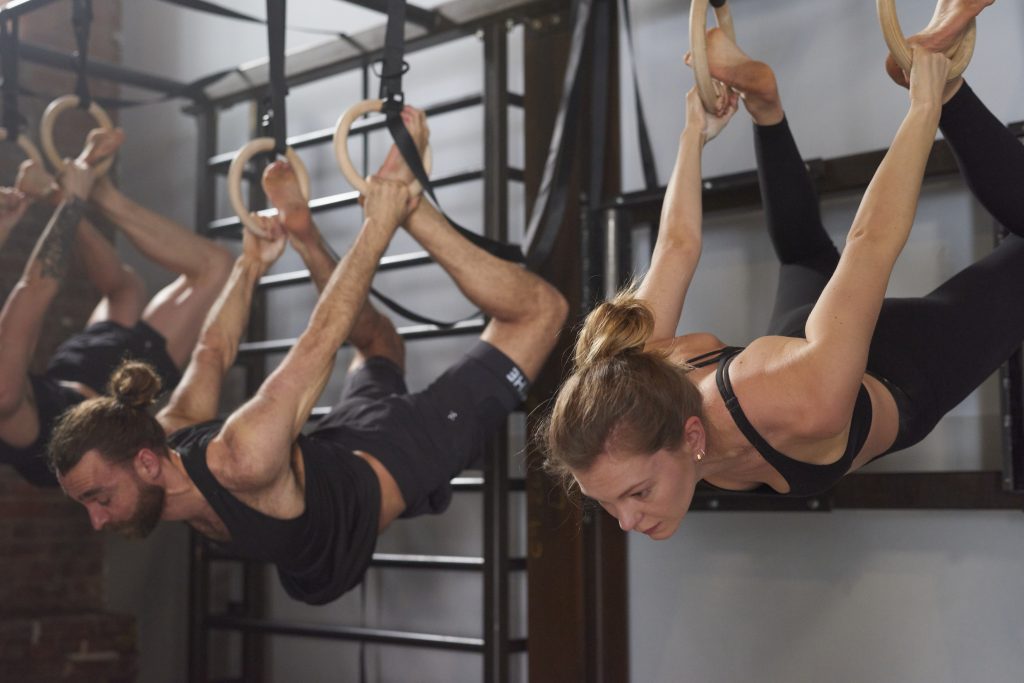 With this in mind, I really wanted to try something completely different to my usual training, so I decided to try Calisthenics which is a bodyweight session teaching you how to control your body in impressive ways. Think muscle-ups, handstands and human flags (imagine yourself hanging horizontally from the ground off a lamppost!).  Consider it similar to gymnastics, or pilates defying gravity. Thankfully, our meticulously thorough instructor, Sobhan, didn't have us hanging from any lampposts or flinging ourselves over the rig! 
Who's it for?
Those that love classes and want to cross-train with purpose
Locations: 
Shoreditch, Clapton
Cost: 
Memberships starting from £84 p/m, individual class £15
Facilities; full shower facilities with GHD hair appliances and luxury wash products, easy-to-use coded lockers, smoothie bar and an art gallery and retail space.
---
"When uninspiring becomes the norm, there's a problem". This was the gateway for Gymbox to reset the fitness industry back in 2003 and since then it's grown into a futuristic space like no other. Gymbox is home to big hitters, heavy lifters, slick dancers, zen masters, first-timers, seasoned sadists, movers, and rule breakers of every kind. In other words, you can be anything you want to be here, any shape you happen to be. Ultimately this is a space opening the freedom to play and to train with no restriction, meaning you can enjoy exercise in whichever way you want to. Whether you're searching for the most unique classes in the capital or you prefer using the biggest free weights, cardio, and combat areas to complete your own workout, there's really no limit to your fitness routine. Classes vary from your regular functional fitness classes, to rollerblading and even aerial-based classes in the form of yoga, trapezing and gymnastics. You could spend an entire weekend trialing classes and playing around with the extensive equipment here, and still need more time to explore! The futuristic aesthetic combined with neon lighting and booming live DJ sets makes it feel like you're hitting the nightclubs anyway.
If you're serious about working out and having a laugh, the ultimate thing that unites Gymbox members is that everyone is striving for pure, unadulterated fun.
Who's it for?
Those looking for everything under one roof at an affordable expense
Where is it?
Bank, Covent Garden, Ealing, Elephant & Castle Farringdon, Holborn, Old Street, Victoria, Westfield London and Westfield Stratford
How much is it?
Memberships start from £84 p/m
Facilities; full shower facilities with hair appliances and luxury wash products, complimentary towels and bring your own padlock lockers, a smoothie bar and a sauna and steam room at selected clubs.
---
Third Space is the Mecca of the luxury fitness scene with boutique, high-spec training spaces fit for celebrity royalty (Prince Harry and David Beckham are known to have been here). With top-spec facilities such as the Eleiko Olympic strength training area, sled track and functional training rig, to the studios with adaptive lighting, heart-rate connectivity and full surround sound and UV traded air system, Third Space has everything under one roof so you can attain your goals without any restraint.  
It became clear to me why their classes are award-winning after following their online workouts in the very first lockdown of 2020. Taught by the UK's leading instructors, there is an ever-updated class timetable to keep your training varied and propel you towards your goals. Competitive classes such as Formula 3 will force you to dig deep for a full-spectrum, circuit-based session, whereas Swimming classes are technique focused and you can expect to learn skills and drills to improve every element of your stroke, whether you're a triathlete or merely training leisurely. After your session, take yourself to the super-swish changing rooms where you'll find the waterfall cool down shower, chilled towels and even a Wash Dry Fold service – so you can pop your suit back on and cruise back to work, ready to hit the grind of the outside world again!
Who's it for?
Those wanting to be a part of London's most sought-after fitness club
Where is it?
Islington, Tower Bridge, Soho, City, Canary Wharf, Marylebone, Mayfair 
How much is it?
Memberships start at £180 p/m
Facilities; full shower facilities with hair appliances and luxury wash products, state-of-the-art swimming pool in all locations, spa, sauna and steam rooms, treatments and a physiotherapy clinic and a cafe by 'Natural Fitness Foods'.