Looking to spice up your week? We have rounded up a selection of beautiful drinks from Bottle Green so you can celebrate World Cocktail Day at home in style. These have been created by Channel 4's Sunday Brunch regular host, Pritesh Mody.
Scroll on for the recipes…
Inspired using the finest natural ingredients, this range of refreshing cocktails tap into current flavour trends, including the use of fresh vegetables, exotic spices, and store cupboard essentials. Created using an array of delectable infusions and the gorgeous flavoursome Bottlegreen cordials, these summer serves suit all tastes and are easy to create in the comfort of your own home.
Red Snapper
Pictured above
50ml Gin (something bold such as Gin Mare works perfectly)
100ml Quality Tomato Juice (preferably unspiced)
15ml bottlegreen Aromatic Ginger & Lemongrass Cordial
5-10ml Sriracha Sauce (depending on heat preference)
10ml Thai Fish Sauce
15ml Lemon Juice
Sprig of Lemongrass to garnish
Hot and exotic flavours are combined to create a taste explosion for those that love to explore flavour. A wonderful twist on the brunch's favourite Bloody Mary, offsetting rich tomato and spices with the warming ginger and lemongrass. This serve is the ultimate pick me up for the 'Armchair Adventurers'- those who love to explore the tastes of the world in the comfort of their home.
Pour all ingredients into an ice filled shaker and shake hard to chill before pouring into an iced filled highball glass. Garnish with aromatic herbs such as lemongrass or coriander.
Garden Gimlet
Taps into the growing trend of using vegetables in cocktails to create a refreshing botanical gin-based summer cocktail. Yes, you read right, you can top up your five a day whilst enjoying a tipple! Perfect for lazy afternoons in the garden or on a sunny balcony.
Top Tip:  If you are feeling lazy you can LIGHTLY blend the vegetables
50ml Gin (Villa Ascenti or Hendricks works well)
20ml Bottlegreen Hand-Picked Elderflower Cordial
50g Cucumber, peeled and chopped
10 x Garden Peas (defrosted if frozen)
2-3 Sprigs of Mint
Muddle the cucumbers and peas together until they have mushed into a thick textured juice. Hard shake all ingredients with ice until chilled then strain with a tea strainer into a martini glass. Garnish with mint sprigs.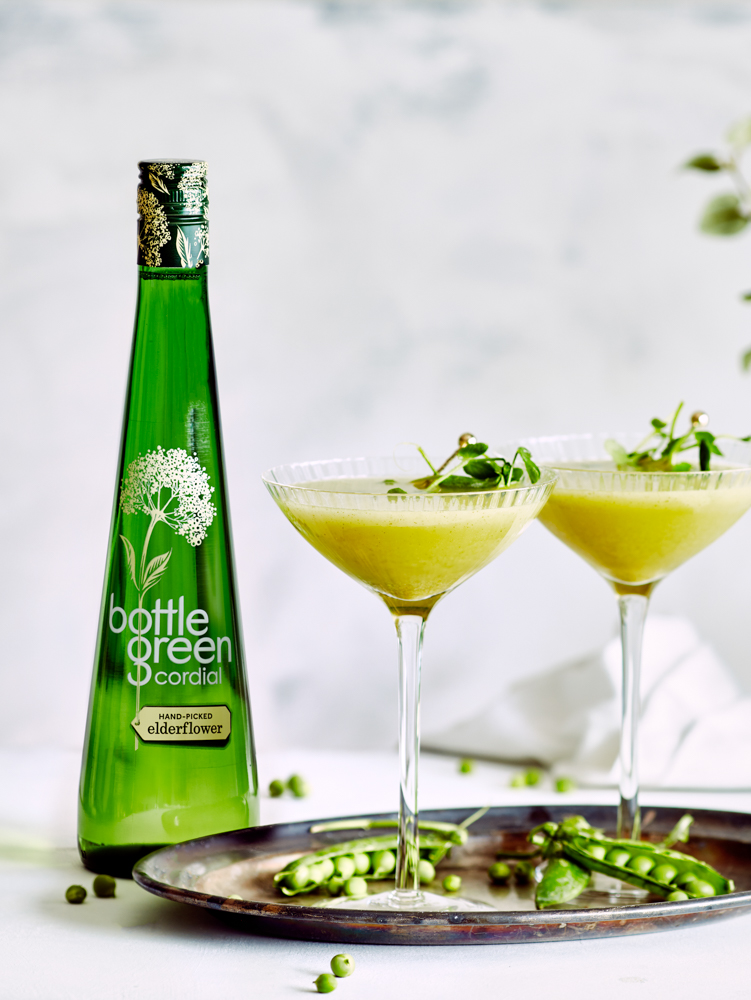 Top Tip:  If you do not have Lemongrass available, a slice of lemon also makes a great garnish
Ginger and lemongrass whiskey sour
Mood-boosting bright and warming Ginger is beautifully balanced with aromatic Lemongrass to provide exciting levels of flavours. This cocktail is especially unique as it is created using Aquafaba (the water from a tin of chickpeas or beans) instead of egg white.
50ml Bourbon (Wild Turkey 101 or Bulleit Bourbon works well)
25ml Lemon Juice
20ml Bottlegreen Aromatic Ginger & Lemongrass Cordial
5ml Sugar Syrup
25ml Aquafaba
Slice of lemon or ginger to garnish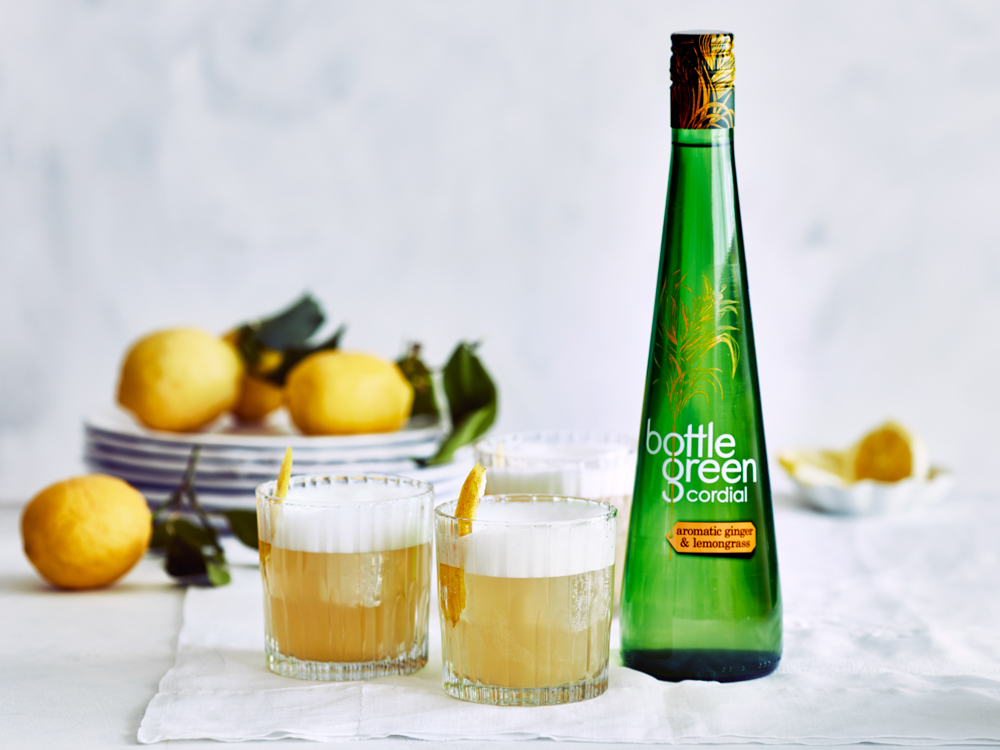 Place all the ingredients in a shaker and shake hard. Do not add any ice to ensure you can create a foamy texture. Once you have achieved a foamy consistency, add ice, and shake further until the drink is chilled. Strain into an ice filled tumbler and garnish with a slice of lemon or piece of ginger for a little more fire.
Top Tip:  If you do not have a tin of chickpeas to hand, you can use ½ an egg white instead
Elderflower and Earl grey collins
 A beautiful fragrant serve which epitomises summer in a glass with the rich flavour of handpicked elderflower complimenting the elegant notes of Earl Grey tea. The perfect accompaniment to any British summer occasion.  
50ml Gin (Tanqueray 10 or Caorunn works well as they both have fresh notes)
35ml Bottlegreen Hand-Picked Elderflower Cordial
25ml Lemon Juice
75ml Soda or Sparkling Water
Twinings Earl Grey Tea Bag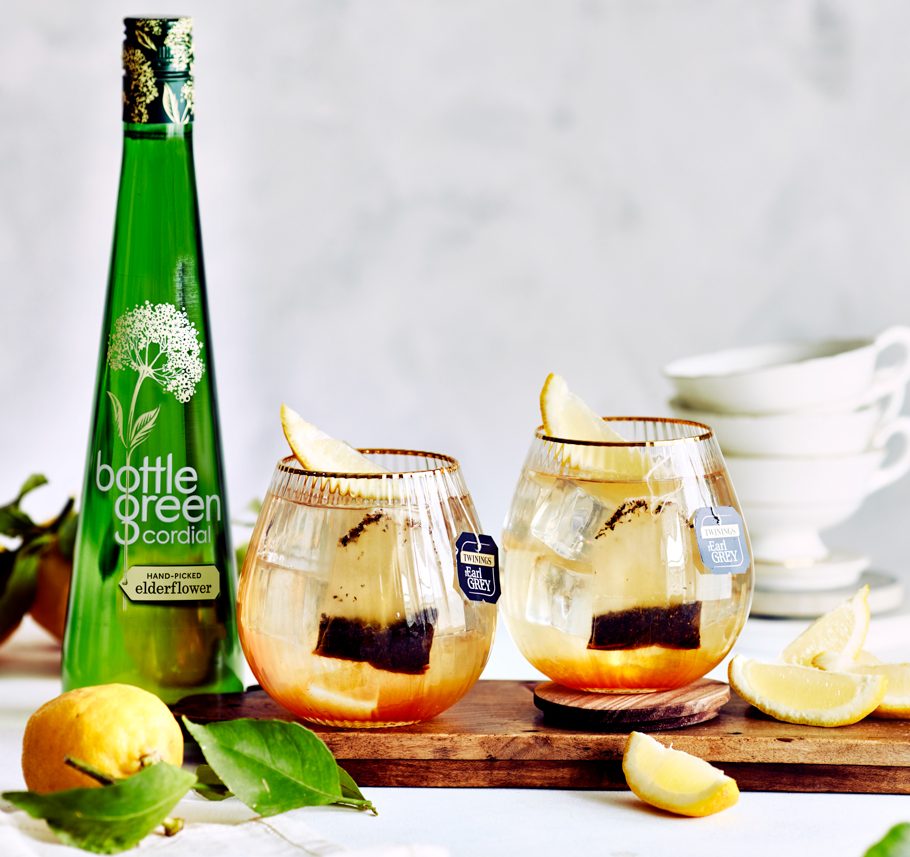 Pour all ingredients except for the soda water into an ice-filled shaker and shake before pouring into an iced filled glass. Top with the soda water and then place the teabag into the glass. Stir the teabag round 5 times so you can see the tea infusing with the cocktail
Top Tip:  Enjoy as the drink evolves over time, releasing more tea and flavour
Raspberry Espresso Martini
A unique twist on a classic, this delicious concoction packs a punch by infusing the rich fresh flavours of summer raspberries to brighten up one of nation's favourite cocktails.
50ml Vodka (Ketel One, Sipsmith or similar premium vodka works well)
25ml Fresh Espresso
10ml Coffee Liqueur (Kahlua or similar is ideal)
15ml bottlegreen Plump Summer Raspberry Cordial
10ml Sugar Syrup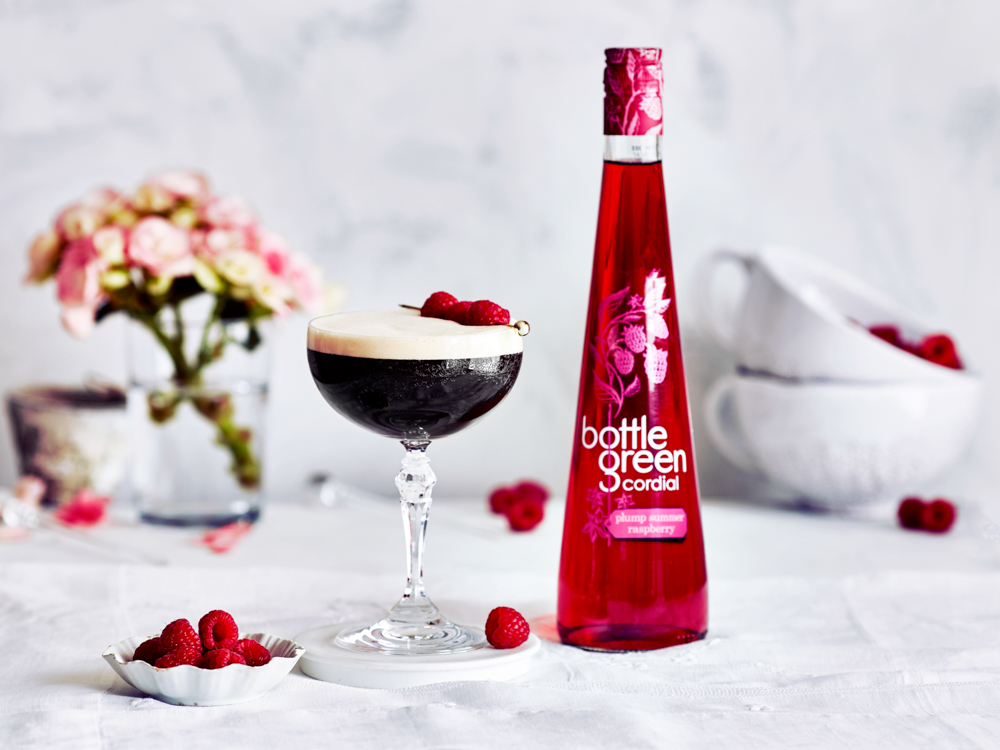 First off, brew the fresh espresso and then leave it for approx. 10 minutes to cool. Pour all the ingredients into an iced filled shaker and shake hard until chilled. Serve into a martini glass and garnish with fresh or frozen raspberries.
Top Tip: You can use decaffeinated espresso if you wish!
STOCKIST INFORMATION:
BOTTLEGREEN CORDIALS ARE AVAILABLE AT ALL MAJOR SUPERMARKETS RRP: £3.49