There's a lot to love about the humble Butternut Squash and it's versatility, and Butternut Squash & Carrot soup is a great way to eat seasonally whilst also racking up your intake of vitamins, minerals, fibre and nutrients (most specifically vitamins A, C, K1, B6, magnesium and potassium).
You might also like to use these British seasonal vegetable staples roasted and stuffed with feta, grains and veggies (butternut), baked and seasoned as great side dish with a Sunday roast or thrown in diced to bulk up veggie stews and soups.
Chef's Farms
We're working with Chef's Farms, who are Sussex-based producers on a mission to champion seasonal British produce to bring you this super simple Butternut Squash & Carrot soup recipe with chilli, ginger & garlic.
This recipe can be made vegan by using coconut oil to sweat the onions instead of butter and adding a vegan alternative to cream when serving.
Ingredients:
1 Large Butternut Squash
4/5 British Carrots
1 White or Red onion roughly chopped
2-4 Cloves of Garlic
1 Red Chilli
1-2 cm of Freshly Grated Ginger
2 Tbspns of Cooking Oil (we used rapeseed)
1 tspn Butter
1.5 ltrs Veggie Stock (we used a Kallo cube but you can use fresh if desired)
Salt & Pepper to taste
Double Cream or Crème fraîche to serve
Method:
1.Start by pre-heating your oven to 180 degrees. Next, cut your Butternut Squash in half and scoop out the fleshy/ seedy part at the bottom. Once you have removed the flesh place the outer skin of each side on the bottom of the roasting tin, drizzle with a tablespoon of cooking oil (we used rapeseed but groundnut or olive oil both work very well), season with a little black pepper and place in the pre-heated oven at 180 degrees for 45 minutes to roast.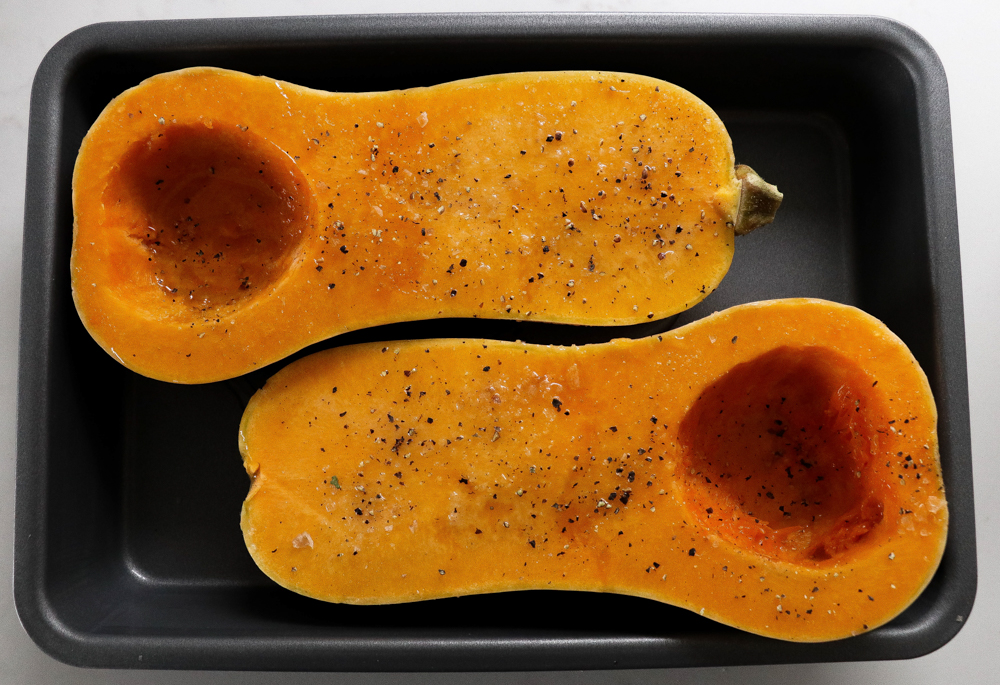 2.Peel (if desired) and chop your carrots into batons, chuck these into a seperate roasting tin and again, drizzle with oil and place into the same oven for roughly 30 minutes.
3.Next, add your roughly chopped onions, finely diced garlic, ginger & chilli (if using) to a pan with 1 teaspoon of butter (skip this part if vegan) and 1 tablespoon of cooking oil to a large pan on a medium heat. Sweat your onions down,stirring frequently to ensure that they do not catch. Once onions are soft but not brown, remove from the heat.
4.Make your veggie stock and put to one side. We used an organic vegetable stock cube but if you prefer you can use freshly made vegetable stock. You're going to need roughly 1.5 litres of stock, depending on how large your butternut squash is.
5.Once your butternut squash is roasted (it should be easy to scoop out the flesh) you can get a large metal spoon and remove all of the flesh from the skin and straight into your pan with the onions, garlic, chilli and ginger.
6.Place your pan back onto the medium heat, and slowly add your vegetable stock as you stir it all together. Bring the ingredients to a simmer, and then remove from the heat.
7.Now, grab a hand blender and whizz your soup together in the pan. Alternatively, transfer to a mixer/blender/nutribullet and purify the soup until it reaches a creamy consistency.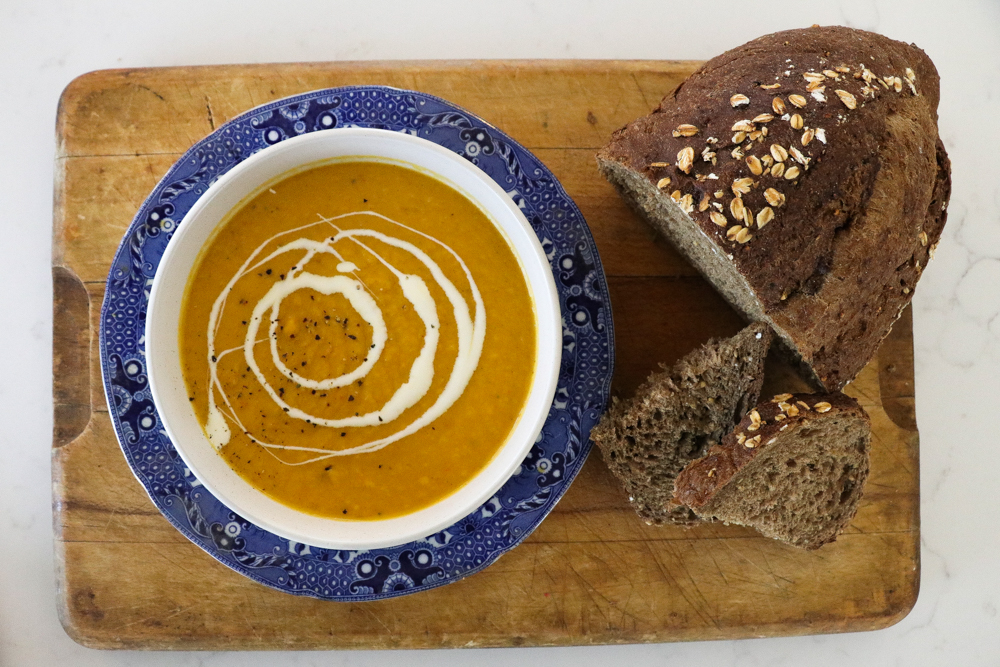 8.Now your soup is ready to eat, it's time to season it to your preference. Add salt/ pepper/ chilli powder/ paprika to taste or none of the above if you are already happy with it. You can also make the soup 'lighter' by adding more stock water or milk if you desire.
Serve with Chef's Farms soft, chewy sourdough and a drizzle of fresh cream.
Store in the fridge and eat within 3-5 days or portion up and freeze for quick and easy lunchtime options.